There's A "Really Compelling Idea" For Wayward Pines Season 3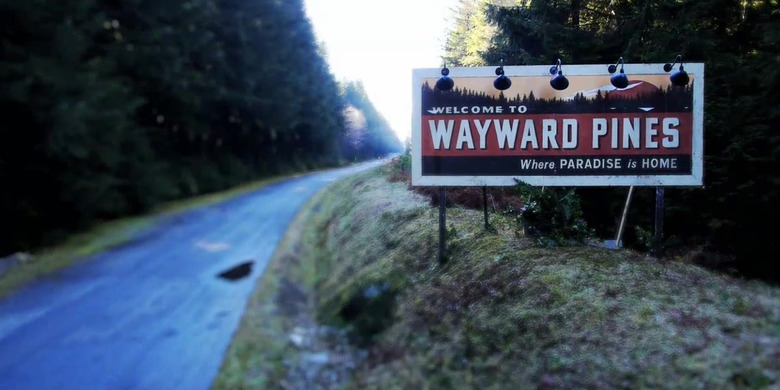 Before the premiere of its second season, M. Night Shyamalan told us he saw Wayward Pines as a three season story. The ratings for the second season have not been as strong as the first, but Fox Television Group Chairman and CEO told reporters of the Television Critics Association that she's hopeful the show will have a third season, pending additional ratings data. Find out more about the possible Wayward Pines Season 3, after the jump.
"I definitely think there could be a season three," Walden said. "It's still the number one scripted show of the summer. It struggled. Most shows struggle year to year. We don't know yet what we're going to find when the multi-platform numbers roll up, ultimately how big that audience is. I think I'm sharing a point of view of Night's that the first couple episodes were trying to find its way in a reset. By sort of the third episode on, it really hit its stride. It's hard when you have to reinvent a series each season."
Based on the novels by Black Crouch, Shyamalan produced the show for creator Chad Hodge, with Shyamalan directing the pilot. Walden has heard their pitch for a third season. The second season finale aired July 27.
"They have a really compelling idea for season three that I liked very much," Walden said. "We're definitely talking about the show right now."
Wayward Pines was a place where main characters could die week to week, and the leads were switched season to season. Matt Dillon led the first season, with Jason Patric and Djimon Hounsou taking over in the second. Walden suggested that many of the cast members standing at the end of the finale would return for a third season.
"I would anticipate that some of them would be back, but it's so premature," Walden said. "I had my first conversation with Night honestly via e-mail over the weekend."
The way ratings are calculated now is much more complicated than the old days of Nielsen numbers. Networks now take DVR viewing, streaming and other factors into account. Walden hopes to have her decision made in time to continue the series if she decides to.
"I hope to make one in a pretty timely way," Walden said. "I know that Night's schedule is busy. We also have almost all the information we need. We just want to see a few more of the delayed viewing platform results."
Wayward Pines airs Saturdays at 8 PM on Fox.