'Lethal Weapon' TV Series Doesn't Rule Out The Possibility Of 'Lethal Weapon 5' Movie [TCA 2016]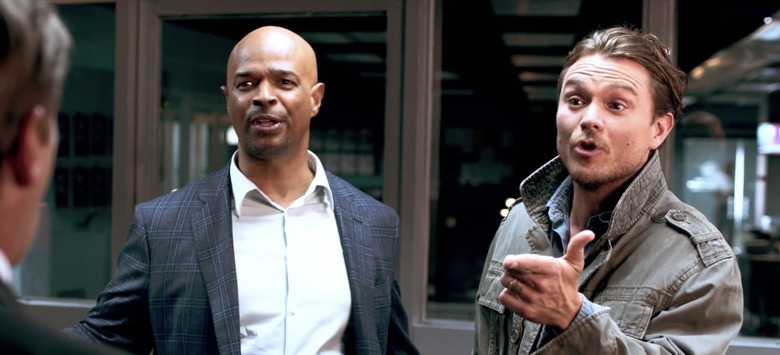 Fox presented a panel on their Lethal Weapon TV series for the Television Critics Association today. Damon Wayans stars as Roger Murtaugh and Clayne Crawford as Martin Riggs. The two are partnered in the pilot and the series will follow their volatile partnership. During the panel, producers suggested that the series could coexist with a movie sequel.
"There's still potential for a Lethal Weapon 5," executive producer Dan Lin said. "The film department was gracious to let us extend the series on television but there may be a Lethal Weapon 5 in the future but for now the focus is 100% on the TV show." 
More word from the Lethal Weapon film franchise comes from Richard Donner, who directed all four films, according to series creator Matt Miller. "Once we'd sold the show, we sat down with Richard Donner, just wanted to get his blessing on things. We pitched him this is what the show would be like. He said, 'Great, but if you don't have the guys, you're screwed.'"
Miller agreed with Donner. The films made Mel Gibson and Danny Glover the high-water mark by which all future buddy cop duos were judged (along with Eddie Murphy and Nick Nolte in 48 Hours). Wayans committed first, so Murtaugh was set. The producers then sought to match him with the perfect Riggs.
"Damon was a great score," Miller said. "He read with a lot of guys. It was hard to find Riggs. We searched Los Angeles, New York, Australia, all over the world. The thing was every actor who came in, whether they knew it or not, were doing a Mel Gibson imitation and that was never going to work. Writing the character, part of that is also putting him in Texas so he'd have a drawl or lilt to his speech, something that would distinguish him from the way Mel played the role. We found this guy on an independent movie he made. The casting director said, 'I think I found Riggs.' We were like, 'Great, where is he?' 'He's on a farm in Alabama with his family and his horses.' We put him on a plane, sat down and talked about it. From that moment on, we had our guy."
The film franchise centered around Gibson and Glover, but in sequels Joe Pesci and Rene Russo became integral cast members too. The producers said they do plan to introduce a Leo Getz and Lorna Cole when the series calls for them.
"Yes, Leo Getz and the Rene character, we will introduce both of those characters at some point," Miller said. "We don't have plans to do it in the short term. Like with those franchises, they injected them when they felt they needed that shot of adrenaline, when it felt like the story hey wanted to tell had been told. We've got so much story we want to tell with these characters we want to play with, we're going to do it as long as we can. When it feels like the right creative, contemporary way, we will introduce Leo Getz."
On television, Riggs and Murtaugh will have new adventures every week. The show will blend a weekly police procedural with the evolving character drama of the partners. "The idea with this show is there will be cases of the week and crimes that we will solve on a weekly basis," Miller said. "That said, there's a season long mythology and arc we'll be telling. It starts with the pilot. By the end of however many episodes, there'll be, I don't know resolution, but we'll follow a thread through the series."
The film's Martin Riggs was a Vietnam War veteran who was contemplating suicide after the death of his wife. Crawford's Riggs was expecting to be a father when his pregnant wife was killed in an automobile accident, on the way to the hospital no less. There's no gun barrel in the mouth scene in the pilot, and Crawford went in a different direction with his portrayal of Riggs' instability.
"I think in the films, he was also doing cocaine which kind of jacks things up a little bit," Crawford said. "This is Fox and family hour. No cocaine. I was playing more just the sadness and if I lost my children, I don't know how I would get up and pay the bills. I don't know how I would continue with life. So I approached it from that way, but having that urge and desire to catch bad guys. I tried to ground Riggs in an honest place. I felt like from an audience standpoint, what Mel Gibson did in '87 with that role was incredible, but we want things more grounded today. I had to find the heart of the piece and not go so big with it."