Is Benicio Del Toro Playing An Intergalactic Villain In 'Star Wars: Episode 8'?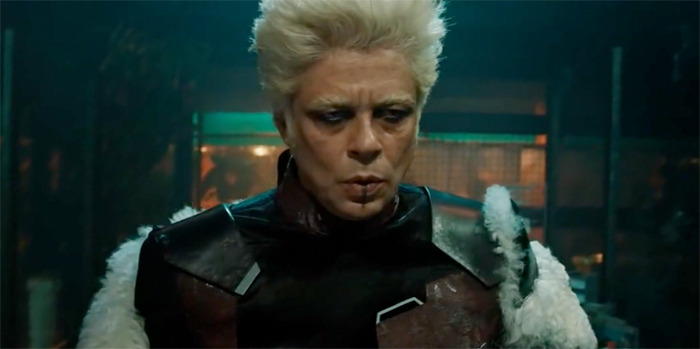 Since it was announced that Benicio Del Toro was cast in Star Wars: Episode VIII, there has been a lot of speculation as to what kind of role the Academy Award-winning actor would play in Rian Johnson's upcoming Skywalker saga installment.
When the trades first reported the casting, they revealed that Del Toro would be playing a villain, but as time went by, the actor denied that he would be playing the bad guy in the new film. But a new quote from Benicio Del Toro seems to confirm his role in Episode 8. Hit the jump to find out more about the Benicio Del Toro Episode 8 role.
Benicio Del Toro seemed to deny the initial casting report that claimed that he would be playing a villain in the film, telling ET at the Toronto International Film Festival:
I don't know if he's a villain. People are saying that, but it's like they read a different script than I read.
Later, the actor was again asked about his role in the film and continued to deny that he was the villain:
You know, I'm not supposed to say, but that's what's out there, so I'm not gonna try and fight it.
Now speaking with the Italian magazine Grazia (via SWNN), the actor was asked is Star Wars: Episode 8 would be a film suitable to show his 5 year-old daughter Delilah. Here is the question and response, translated thanks to the help of some readers (Stefano M, High M, OursTheLife):
Question: Maybe Star Wars will be the right film to show to Delilah. Or will you be a drug dealer in that movie too? Answer: Who knows? We'll see, I've never played an intergalactic villain. Joking aside, maybe the movie will not be the right one for her, but my dream is to take her with me at least to the premiere, on the red carpet.
Of course, something could be lost in translation. The word "malvivente" most accurately translates into "bad being," "criminal," "gangster" or "villain." Does this confirm that Benicio Del Toro is playing an "intergalactic villain" in the new film? It reads that way, but he follows the statement with the phrase "Scherzi a parte", which means "kidding aside" so he might be joking. Since the news of his casting in the film was first reported, Del Toro has been actively messing with the press when it comes to any question about his involvement in the franchise.
Not much information has leaked out about the Episode 8 storyline, but it was previously rumored that Del Toro would be playing a (possible minor spoilers coming up, highlight the following text to reveal) former bounty hunter turned Republic politician who survived because he was offworld during the destruction of Hosnian Prime. According to the rumors, the character will have a confrontation with Kylo Ren at some point later in the film. [end of invisotext]