Skrillex & Rick Ross' 'Suicide Squad'-Themed Music Video Gives Us More Of Jared Leto's Joker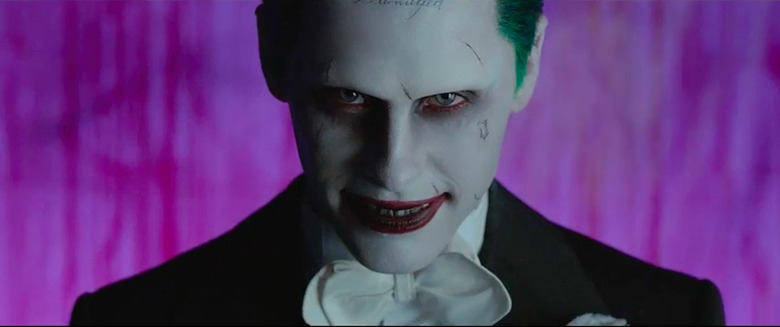 Fans of the Joker aren't going to see a whole lot of the clown prince of crime in David Ayer's Suicide Squad. Quite a bit of Jared Leto's scenes were cut from the film, and Ayer and the studio may have gone as far as to remove an entire confrontation between him and the Squad. Because of the character's grotesqueness and Leto's choices, it's a performance that may divide audiences. But if you leave the theater as a fan of the actor's take on the character, and want to see more of it, then Skrillex & Rick Ross have you covered.
Below, watch the pair's Suicide Squad music video "Purple Lamborghini," featuring Leto as the Joker.
The Joker is depicted as a gangster in Suicide Squad. Ayer and costume designer Kate Hawley modeled him after some crime lords from Mexican drug cartels. The director and Hawley looked at the Instagram accounts of drug lords for inspiration, studying their accessories and weapons for the Joker. Jewelry was made specifically for Mr. J and Harley Quinn (Margot Robbie), in an effort to make their style and criminal underworld slightly more glamorous than the one shown in Skrillex & Rick Ross' Suicide Squad music video.
Here's director Colin Tilley's "Purple Lamborghini" music video:
It's tough to imagine Heath Ledger or Jack Nicholson's interpretations of The Joker strolling through a Skrillex & Rick Ross music video, which shows how far removed Leto's performance is from past interpretations of the character. The actor goes big as the iconic villain. Unlike with Ledger's Joker, there probably won't be a consensus on Leto's performance. Seeing Leto as the Joker in a Skrillex & Rick Ross music video — which is for a song that's part of the film's official soundtrack — is another reminder this isn't a Joker for everybody.
Here's the official synopsis for Suicide Squad:
From director David Ayer comes "Suicide Squad," starring Oscar nominee Will Smith, Oscar winner Jared Leto, Margot Robbie, Joel Kinnaman and Oscar nominee Viola Davis. It feels good to be bad... Assemble a team of the world's most dangerous, incarcerated Super-Villains, provide them with the most powerful arsenal at the government's disposal, and send them off on a mission to defeat an enigmatic, insuperable entity. U.S. intelligence officer Amanda Waller has determined only a secretly convened group of disparate, despicable individuals with next to nothing to lose will do. However, once they realize they weren't picked to succeed but chosen for their patent culpability when they inevitably fail, will the Suicide Squad resolve to die trying, or decide it's every man for himself?
Suicide Squad is now in theaters.