'I'm Not Ashamed' Trailer: You Won't Believe This Latest Faith-Based Movie Exists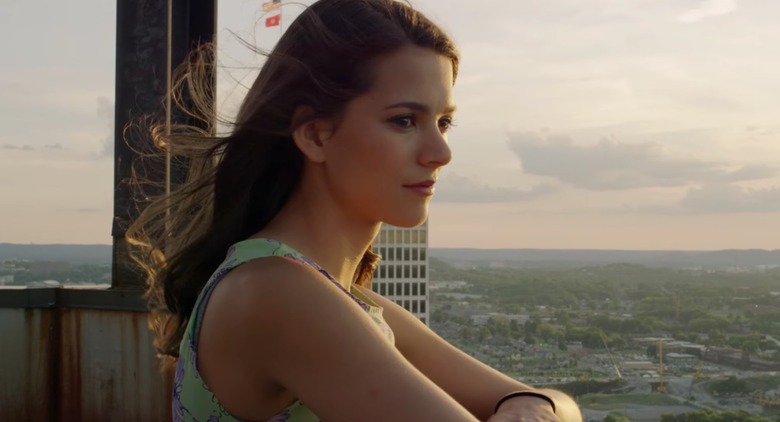 Today I want to share with you a trailer for one of the latest faith-based movies, I'm Not Ashamed. Masey McLain stars as Rachel Joy Scott, a Colorado high school student whose "life and testimony changed the world for God." I don't want to spoil this trailer, and urge you to watch the whole thing for yourself. And I know you may be tempted to click the back button on your browser 40 seconds into this film advertisement but please, keep watching until the end.
I'm Not Ashamed Trailer
Faith-based movies are nothing new, but over the last few years, there has certainly been a rise in theatrically released Christian films. And getting church audiences to the multiplex is proving to be a profitable business for distributors like Tristar. Heaven is for Real earned $91 million in 2014, War Room made $68 million in 2015 and Miracles from Heaven has done over $61 million this year alone.
And while I'm not a religious person, I have nothing against religious movies — Contact and The Ten Commandments are some of my favorite films of all time. My problem with many faith-based films, at least the few I've seen (and judging from the trailers of the ones I haven't), is they are often bad movies (or look like bad movies). They often seem like just larger-budget Lifetime or Hallmark channel movies, heavy-handed in their messaging and execution.
I'm Not Ashamed looks just as bad as most of the other explicitly faith-based films, and it would be easy to ridicule it on its artistic merits. The Columbine plot feels wrong, even if it is based on a true story. Yes, this is a movie about Rachel Scott, a Columbine student who was asked by one of the shooters if she still believes in God. And after responding yes, she was quickly murdered. The Christian community was obviously devastated by this story, and found inspiration in her enduring faith. Scott's funeral was broadcast on national television, at the time surpassing the funeral of Princess Diana as the most-watched event in CNN history. The movie recreates scenes from Rachel's journals.
Let's be clear here, the Columbine massacre was a horrible tragedy. And I don't mean my comments here to belittle Scott's death in any way. Something always seems to rub me the wrong way about films that take on national tragedies in this kind of approach. And what makes it worse is that it seems gross to paint the picture of the horrible Columbine shooters as atheists out to kill those who believe in a higher power. I wouldn't classify myself as an atheist, but this portrayal feels like an oversimplification for obviously more deeply troubled individuals.
Here is the official plot synopsis for I'm Not Ashamed:
"I've always been drawn to hands. I think it's because it's the way we touch people," Columbine High School student Rachel Joy Scott wrote in her journal. "If one person could go out of their way to show compassion, it could start a chain reaction." Growing up, Rachel knew the love of God, but she wasn't always ready to receive it. At times her faith was on fire ... and at other times it was at odds with her everyday life. As she wrote in her journal: "I don't understand why having a walk with God is so hard for me. I'm so weak. At school, with friends, at work." Having reached a breaking point when her relationship with a non-believing boyfriend ended, Rachel found inspiration from her "big brother"—a former homeless teen she helped lead to Christ.
After praying, "Father, use my life to touch the world and let your light shine through me," her renewed commitment to Jesus played out compassionately and powerfully at her high school ... and around the world. Pure Flix presents I'M NOT ASHAMED, the inspiring true story of Rachel Joy Scott at Columbine High School. When her hopes and dreams seemed to end, God was just getting started. Opening in theaters October 21, I'M NOT ASHAMED stars Masey McLain, Ben Davies, Sadie Robertson, Korie Robertson, Jaci Velasquez, and Jennifer O'Neill. Based on Rachel's honest and heartfelt journals, I'M NOT ASHAMED is a hope-filled reminder that when we put our lives in God's hands, we can make a world of difference.
I'm Not Ashamed hits theaters on October 21, 2016.