'Allied' First Look: Brad Pitt And Marion Cotillard Star In Robert Zemeckis' WWII Drama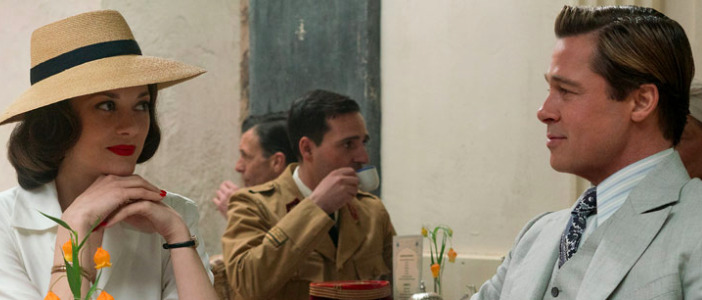 We're only three months away from seeing another Robert Zemeckis film. Allied has an Awards-friendly release date and stars Brad Pitt, Marion Cotillard, Lizzy Caplan, Matthew Goode, and Jared Harris. Making the WWII drama all the more promising, it's also written by Steven Knight (Locke), whose new show, Taboo, comes to FX next year.
Below, check out the full Allied first look.
Allied takes place in 1942. Max Vatan (Brad Pitt) and Marianne Beausejour (Marion Cotillard) are undercover allies who begin to fall for each other. Max is a British intelligence officer sent to Casablanca to plan an assassination attempt. He works with Marianne, a French Resistance fighter who goes undercover as his wife.
Here's Brad Pitt and Marion Cotillard in the Allied first look (source: People):
Academy Award-winning producer Graham King said it was Knight's script — which was inspired by true stories he heard about WWII — about "trust and loyalty" that attracted the talent involved in the film:
Everyone was immediately drawn to the project by Steve Knight's wonderful script. He is an incredible storyteller and wrote a beautiful love story that examines trust and loyalty.
King also spent time praising Pitt and Cotillard in the roles. He said their chemistry was "immediate" and "electric":
It was crucial for Brad and Marion to not only begin rehearsing together before the shoot, but they also spent a lot of time developing their characters with the director, Robert Zemeckis. By the time we got to set, it was really amazing to see these characters already feel lived in and real.
Allied isn't scheduled to premiere at any upcoming film festivals. Then again, we've yet to see the full lineup for the New York Film Festival, where Zemeckis' two previous efforts, Flight and The Walk, debuted. Both movies were well received at the NYFF, but perhaps his WWII drama won't be ready in time for any of the major festivals coming up, or Paramount doesn't feel the need to unveil the picture at a film festival.
AFI Fest wouldn't be bad timing, though. Brad Pitt had two movies debut at that festival last year, and AFI often lands some high-profile end of the year releases, like Allied. Putting aside wherever or whenever the film will first play for a big audience, considering Zemeckis' drama isn't too far off from hitting theaters, we should at least expect to see a trailer soon.
Allied opens in theaters November 23rd.