HBO Announces New Shows From Jon Stewart And Alan Ball, Plus Premiere Dates For 'Westworld' & More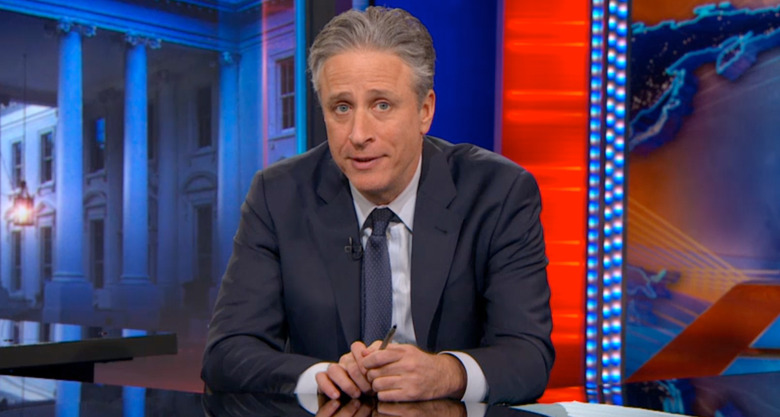 HBO presented sessions for the Television Critics Association on Saturday, and some interesting announcements came from Quentin Schaffer, Executive Vice President of Corporate Communications, and Casey Bloys, president of HBO Programming. During the TCA sessions, news surfaced about new shows from True Blood creator Alan Ball and former The Daily Show host Jon Stewart. Plus, HBO also locked down the premiere dates for their upcoming new shows such as Westworld.
Find out the Westworld premiere date and get the scoop on the Jon Stewart HBO show and more after the jump.
First up, HBO announced that Westworld will premiere Sunday, October 2 at 9 PM. In addition October 9 will see the debut of Sarah Jessica Parker's new series Divorce at 10pm ET/PT, followed by Insecure at 10:30pm ET/PT. You can watch the Westworld trailer right here and a teaser trailer for Divorce over here.
As for new shows coming down the pipeline from HBO, Schaffer announced a new series from Alan Ball, creator of Six Feet Under and True Blood. "We have a new series we're doing with Alan Ball, his third series with HBO," Schaffer said. "He really wanted to pursue a drama on a contemporary American family." No further details were given on the series, so stay tuned to find out more as information becomes available.
Meanwhile, Jon Stewart is set to join the HBO family with an animated comedy news show that will air both online and on the network. Here's what Bloys had to say about Jon Stewart's new project at HBO:
"I talked to Jon before this. I said, 'How do you want me to describe this?' It is animation. He is establishing an animation studio because he wants to get material out multiple times a day. The idea is it will be an animated parody of a cable news network, kind of an Onion-like portal. It will be very much Jon's voice, both his actual voice and his tone. My hope is it will be up and running by September/October but it is a big endeavor he's taken on. Hopefully by this fall."
By Onion-like, Bloys means there will be a text component as well as video, and there will likely be a half hour program that airs on HBO. As for several times a day, wouldn't animation make it more challenging to be topical? "The idea that Jon wants to do and why he wants to do animation is it allows him to comment in real time on what's happening on the day's events," Bloys said. "It'll be animation that allows him to respond to things very quickly. It'll be more simple animation, but in terms of the technical details, I don't know enough to tell you. It does allow him to respond very quickly to the day's news."
Stay tuned to find out more about HBO's upcoming new shows as more details become available.