'Thor: Ragnarok' Photos: Thor Tries To Figure Out Thanos, Valkyrie Practices Her Swordplay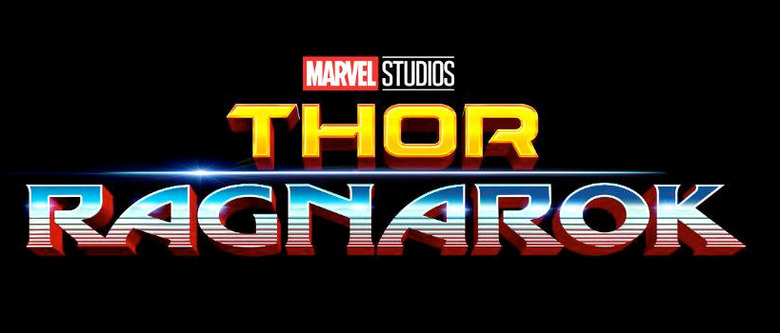 Marvel Studios put on a great show in Comic-Con's Hall H last weekend, sharing new footage from Doctor Strange, Guardians of the Galaxy Vol. 2, and Spider-Man: Homecoming, and trotting out the exceptionally talented cast of Black Panther. But they didn't have a ton to show from Thor: Ragnarok, for the very simple reason that the film had only started shooting a few weeks earlier. Instead, the cast and crew sent over a mockumentary short revealing just what Chris Hemsworth's Thor was up to during the events of Captain America: Civil War.
The video likely won't be released with Thor: Ragnarok itself; it seems more likely to pop up down the line as a Blu-ray bonus feature or something like that. To tide you over in the meantime, though, Taika Waititi has shared a little glimpse at the short, and it suggests Thor is just as frustrated and confused by Thanos' extremely slow progress as the rest of us are. Oh, and if you're not here for jokes, there's also a less goofy behind-the-scenes peek at Valkyrie's sword. 
To recap, the Thor documentary short reveals that the God of Thunder has moved into a cozy Australian flat with an ordinary human named Daryl. The best way to describe it is basically "What We Do in the Shadows meets Marvel." The Asgardian hero doesn't look like a very good roommate — he leaves Mjolnir lying around while Daryl is trying to vacuum, and bothers Daryl at work so he can dictate emails to the Avengers. You can see the roomies hanging out below, although this particular scene did not make it into the short film.
Where was Thor during Civil War? He moved in with me and we sort-a played Connect Four. A lot. #ComiCon #MarvelSDCC pic.twitter.com/OIp2zqjENs

— Daley Pearson (@Daley_Pearson) July 25, 2016
But it turns out he hasn't just been sitting around playing games all day. He's also been trying to figure out what's going on with the Infinity Stones. In fact, he's got a whole conspiracy board set up in his bedroom — you know, one of those bulletin boards covered in pushpins, string, yarn, and pictures that we see in every single crime drama. Today, Waititi served up a tiny little taste of Thor's crackerjack detective work.
Thor is investigating who is after the infinity stones.
Thanos was first introduced in the end-credits stinger for The Avengers and has since spent most of his time onscreen sitting in his flying space throne and talking about Infinity Stones. He looks to become a more active participant in Phase Three — the Avengers: Age of Ultron credits show him finally putting on that magic glove and sighing, "Fine, I'll do it myself" — but so far "purple man in the floating chair" who "doesn't like standing up" seems like a reasonably accurate way to describe him.
The Thor: Ragnarok photo could just mean Waititi thinks Thanos has been an underwhelming villain so far, but it may also be a hint that Thanos will factor into the film somehow. After all, Phase Three is leading up to Avengers: Infinity War, where that lazy floating chair guy will suddenly become much more important. If Marvel wants to start planting seeds for that storyline again, Ragnarok is a good place to do it.
But it'll probably be a while before we know for sure whether Thanos is in Thor: Ragnarok. What we do know is that the comic book hero Valkyrie will make her debut, played by Tessa Thompson. And that Thompson has been practicing her sword work. The actress shared this behind-the-scenes snap of her weapon of choice, although it's not clear if this is a practice sword or the actual prop. If it's the latter, it looks like a surprisingly simple affair.
Day 18 update: I have a lot of bruises. And suddenly abs from laughing so much. And I never want to not have a sword again. @thormovie
Thor: Ragnarok opens November 3, 2017.