'Star Trek: The Original Series' And Abramsverse Timeline Crossover Announced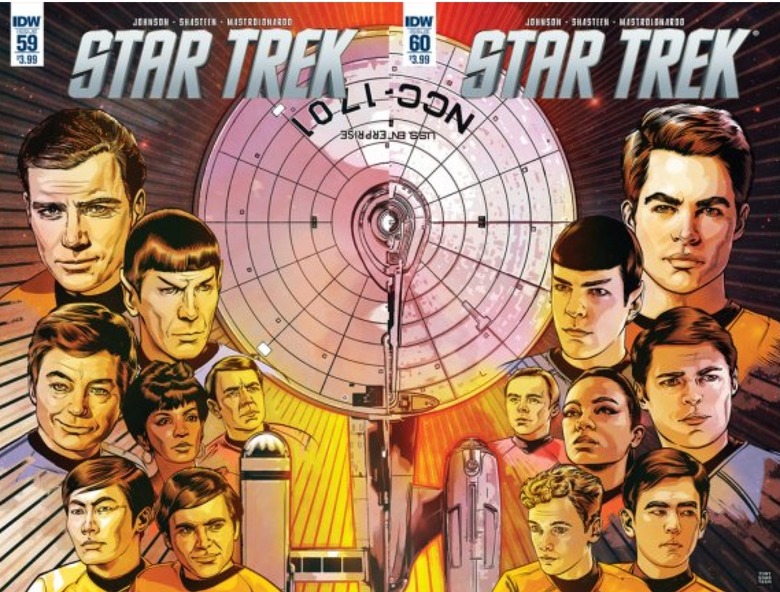 The original Star Trek series crew and the characters from the Abramsverse (i.e., the Kelvin timeline) will collide in a new two-part comic book storyline. This was one of the moire interesting comic book stories we missed during San Diego Comic-Con International 2016. Learn about the Star Trek crossover storyline, after the jump.
Revealed during Friday's Star Trek Comics panel at Comic-Con, IDW Publishing editor Sarah Gaydos and writer Mike Johnson announced the details about an upcoming two-issue crossover storyline which will conclude the current Star Trek monthly comic book series. After that, IDW will relaunch the series in October 2016 with Star Trek: Boldly Go, a comic book series that will pick up following the latest film Star Trek Beyond. The above two-cover spread was revealed by THR.
The crossover storyline will see both the original series Enterprise and the Enterprise from the current movie canon, encounter the same irregularity in space, "leading to the crews accidentally crossing over into each other's realities as they swap bodies with their counterparts." The new series also will include original characters introduced in IDW's recent Starfleet Academy miniseries.
It doesn't sound quite as exciting as it does on the surface as the two crews never actually meet face-to-face. Before the release of Star Trek Beyond, JJ Abrams announced that Chris Hemsworth had signed on to return as George Kirk for the next Star Trek movie which would team the dead starship captain with his son James T. Kirk (played by Chris Pine in the series). Comic books have the power to imagine any possible scenario, even if it may never be possible in a big screen movie or television show — so it's disappointing that they are doing a crossover that won't even see the two Enterprise crews coming in direct contact with each other. Gaydos says that the story emphasises that "problems are solved with science, and problems are solved with teamwork."
During the panel, IDW also revealed that they would be teaming up with DC Entertainment for a second Star Trek/Green Lantern crossover comic book series which will follow up on The Spectrum War storyline. No word on when that series will be released, or what it will be titled.