'The Handmaiden' Trailer: Park Chan-Wook's Latest Revenge Thriller Looks Equal Parts Sexy And Twisted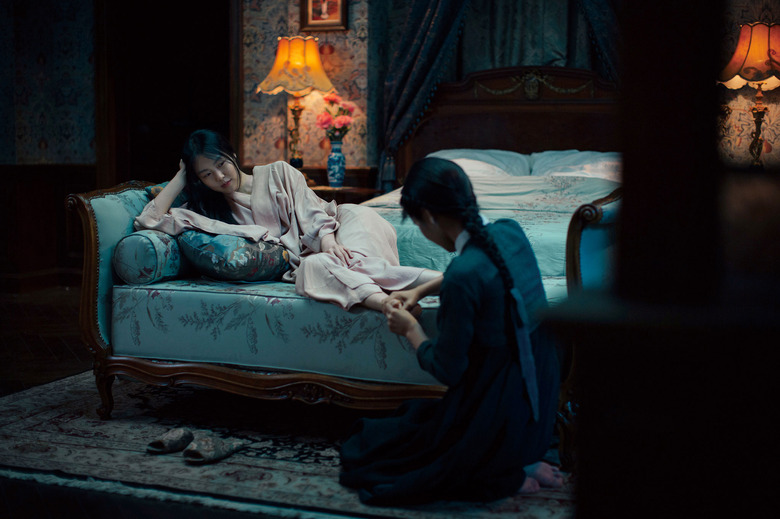 Following a brief foray into English-language filmmaking with Stoker, South Korean director Park Chan-wook returns to his home turf this fall with The Handmaiden. Well, kind of — his new thriller is actually an adaptation of the Sarah Waters' novel Fingersmith, with the action moved from Victorian-era Britain to Japanese-occupied Korea. Kim Tae-ri plays a young woman who's hired by a con man (Ha Jung-woo) to help him defraud a Japanese heiress (Kim Min-hee). But the plan goes sideways when the two women begin to fall in love with one another.
The Handmaiden is just coming off of a warm debut at Cannes, and the first trailer suggests Park hasn't lost any of his lavish style or pulse-pounding intensity. Watch The Handmaiden trailer after the jump.
The new promo leaves me wondering, "What the hell did I just watch?" but not in a bad way. It's light on plot and completely devoid of dialogue (perhaps to avoid scaring off American audiences who hate subtitles), but it's full of sensual imagery and high-stakes intrigue. Above all, The Handmaiden looks sexy in a kinky way, like the movie Fifty Shades of Grey wishes it could be. If you adored the sumptuous style and twisted vibe of Stoker – or if you like Park's work in general, which also includes Thirst, Oldboy, and J.S.A.: Joint Security Area – The Handmaiden should be worth a peek.
The Handmaiden opens in select theaters starting October 14.
From PARK Chan-wook, the celebrated director of OLDBOY, LADY VENGEANCE, THIRST and STOKER, comes a ravishing new crime drama inspired by the novel 'FINGERSMITH' by British author Sarah Waters. Having transposed the story to 1930s-era colonial Korea and Japan, Park presents a gripping and sensual tale of a young Japanese Lady living on a secluded estate, and a Korean woman who is hired to serve as her new handmaiden, but who is secretly involved in a conman's plot to defraud her of her large inheritance. Powered by remarkable performances from KIM Min-hee (RIGHT NOW, WRONG THEN) as Lady Hideko, HA Jung-woo (THE CHASER) as the conman who calls himself the Count and sensational debut actress KIM Tae-ri as the maid Sookee, THE HANDMAIDEN borrows the most dynamic elements of its source material and combines it with PARK Chan-wook's singular vision and energy to create an unforgettable viewing experience.