'Narcos' Season 2 Is Less Epic, More Dramatic [TCA 2016]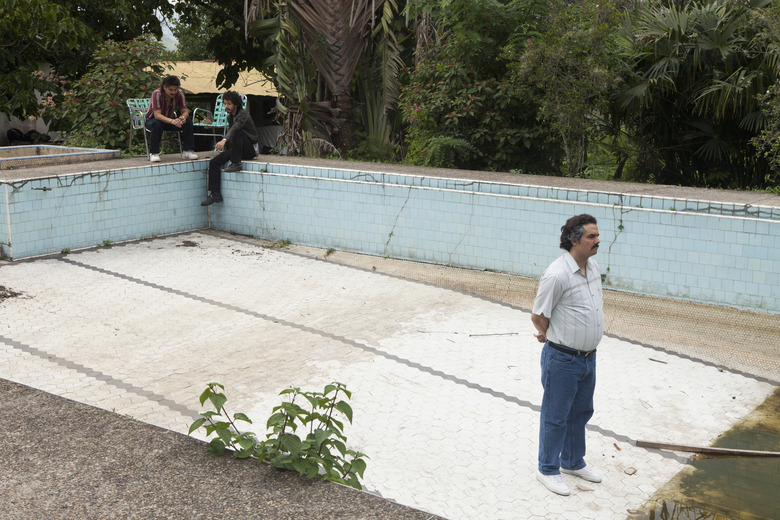 Wagner Moura, Narcos' Pablo Escobar, was at the Netflix presentations for the Television Critics Association to discuss the second season. We got to speak with Moura in a roundtable about the show, which will portray the final year of Escobar's life in season two. Moura described the differences between the first and second seasons.
"I think the first season is more epic," Moura said. "I think Narcos has this balance of the epic and the dramatic. The first season is very epic in terms of we really explain to people how the drug trade works. We have the voiceover, the real footage. We still have the same thing. It's the same style but the second one, given the fact that it covers only one year of Pablo's life, it's very focused on Pablo so it's more dramatic than epic." 
Season one had 15 years to cover, so even at its most dramatic, it was skimming through highlights of his life. In Escobar's final year, Narcos delves deeper into the personality of Escobar.
"It's more focused on the characters and how a character like Pablo, that we are used to seeing so powerful in the first season, what is the breaking point of a guy like that?" Moura said. "So we're going to see him in situations that we never saw him in. Emotional situations that we never saw him in the first one. It's basically about Pablo on the run, but not only focused on Pablo's journey."
Supporting characters in the Colombian story, as well as the American DEA agents, also get more to do. "You're going to see Murphy and Peña as well," Moura said. "They go through a very interesting emotional journey because they get so obsessed about killing Pablo that the things they decide to do in order to kill him make them become something like him. So the moral barriers that people have to break in order to achieve what they want. It's very character driven, the second season. And also Tata and Pablo's family. Tata becomes a very, very important character in the second season."
Knowing this is his last season of Narcos was bittersweet for Moura, but he was also ready to complete the job and move on. "I dedicated a big part of my life to this," Moura said. "It was a very important thing for me, not only career-wise. I'm talking about I had a very big experience in my life. I had to learn Spanish and move to Colombia, spent two years there, brought my kids to Colombia, put them in schools there so they could learn Spanish and be with me. I've learned a lot about the drug trade which really resonates with me as a Latin-American man. But in the end, as I knew what was going to happen to my character, I knew he was going to die, so when we wrapped the first season, it felt like I was doing this big film that I had to stop and come back to finish. I was relieved when I finished because it wasn't nice to spend two years with that energy. I had to change my body so I was super chubby. I gained 40 pounds and it wasn't my body anymore. So it was a mix of different emotions."
Narcos returns September 2 on Netflix.