'Hacksaw Ridge' Trailer: Andrew Garfield Won't Fire A Gun, But Will Put On A Really Thick Southern Accent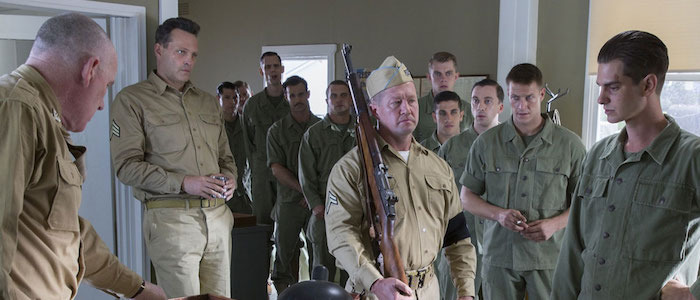 War movies are a common sight, and World War II is an especially popular choice of subject matter. But Hacksaw Ridge is one of the few you'll ever see where a soldier emerges as the hero without firing a single bullet. Mel Gibson's first directorial effort in ten years stars Andrew Garfield as Desmond Doss, a real-life American soldier who refused to kill or even carry a gun due to his religious beliefs. Instead, he aided the war effort as a medic and saves the lives of dozens of his comrades. In 1945, Doss became the first-ever conscientious objector to win the Medal of Honor.
Vince Vaughn, Sam Worthington, Luke Bracey, Hugo Weaving, and Teresa Palmer also star. Watch the Hacksaw Ridge trailer below. 
Doss' story sounds like a fascinating one, and while Doss himself may not engage in violence, the trailer makes it clear Gibson won't be shying away from the ugliness and brutality of war. Doss takes hell from his fellow soldiers for refusing to kill, but becomes a hero among them when he charges into war without even a weapon to protect himself, all so he can help save lives. A lot of war movies emphasize the heroism of killing bad guys, but not as many focus on what it takes to save the good ones.
However, we need to talk about that accent. Andrew Garfield can pull off a general American accent just fine, as we've already heard in films like The Amazing Spider-Man and The Social Network. But a specifically Southern accent seems to be out of his grasp. Maybe it'll sound better in the movie itself, where we'll have two hours to get used to it, but in the trailer, the exaggerated drawl sounds almost like a parody of itself.
Hacksaw Ridge hits theaters November 4.
HACKSAW RIDGE is the extraordinary true story of Desmond Doss [Andrew Garfield] who, in Okinawa during the bloodiest battle of WWII, saved 75 men without firing or carrying a gun. He was the only American soldier in WWII to fight on the front lines without a weapon, as he believed that while the war was justified, killing was nevertheless wrong. As an army medic, he single-handedly evacuated the wounded from behind enemy lines, braved fire while tending to soldiers and was wounded by a grenade and hit by snipers. Doss was the first conscientious objector awarded the Congressional Medal of Honor.