'Legends Of Tomorrow' Season 2 Will Bring In Supergirl And Feature Major Historical Figures [Comic-Con 2016]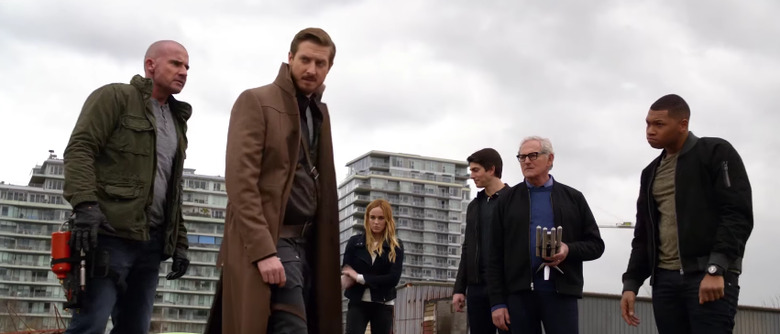 DC's Legends of Tomorrow returned to San Diego Comic-Con for their second season. We interviewed producers Phil Klemmer and Marc Guggenheim in roundtable interviews, in which Klemmer revealed that season two will portray major historical figures on the time travel show.
"We will be doing these iconic historical moments with recognizable historical figures," Klemmer said. "To me, we had little things like H.G. Wells and we had a little shoutout to Bill Gates at a certain point. Season two, you're going to see the icons of the 20th century. You're going to have those versions of the Forrest Gump kind of moments with our guys trying to fix history but at the same time getting to play a part in these recognizable eras." 
Right away in the season premiere, Legends will go so far back that it could cause problems for the rest of the season. "We will do deep prehistory," Klemmer continued. "We will touch on a handful of places that you have never ever been to on network television or otherwise. We'll spend the rest of the seasons trying to pay for it."
The first season introduced the Justice Society of America in the future. Guggenheim teased what's in store for them in season two. "We've got a cool season long storyline planned with the JSA involving a very cool mystery, involving a big bad for the year," Guggenheim said. "It's all going to kick off with an epic battle between the Justice Society and the Legends. It's required that every time there's more than one superhero in any place at any given time, they have to fight. We're honoring that rule and that tradition straight out of the gate."
The first season finale saw Hawkman and Hawkgirl leave the Legends team, and season two will introduce some new characters to take their place. Patrick J. Adams appeared at the very end as Rex Tyler/Hourman, but that won't be resolved right away.
"I think you'll be surprised at the way we resolve or don't resolve initially the cliffhanger from last year," Guggenheim said. "We're going to answer what that was all about with Patrick's character in episode 2, but you'll have to wait 'til episode two to find out what the encrypted message was all about. You'll also see the part of the message you didn't get to see."
Guggenheim also offered some hints about the crossover between all four DC shows. "It's an external threat from outside the shows that will involve Supergirl coming over to Flash, then Arrow then Legends of Tomorrow," Guggenheim said. "I don't like to oversell. She is going to be coming over but we're not going to do a full on Supergirl crossover episode. I don't want to give you the wrong impression."
The second season will also devote more time each episode to individual characters, even if that means leaving other characters out until the following week. "Last year we had eight characters and we felt a need to provide in every episode a storyline for every single character," Guggenheim said. "We went away from that this year. It's still obviously a team show. It's still eight characters but now it's like this episode we're focusing on Ray and Sara. This episode we're focusing on Jax and Rory. We're not being as democratic about storyline as we were and that allows us to get deeper into characters and deeper into their emotional journeys for each episode. For us it's very exciting because I think it's brought new life to the show."
Legends of Tomorrow returns Thursday, October 13 at 8PM on The CW.