New Episodes Of 'Black Mirror' Coming To Netflix This Fall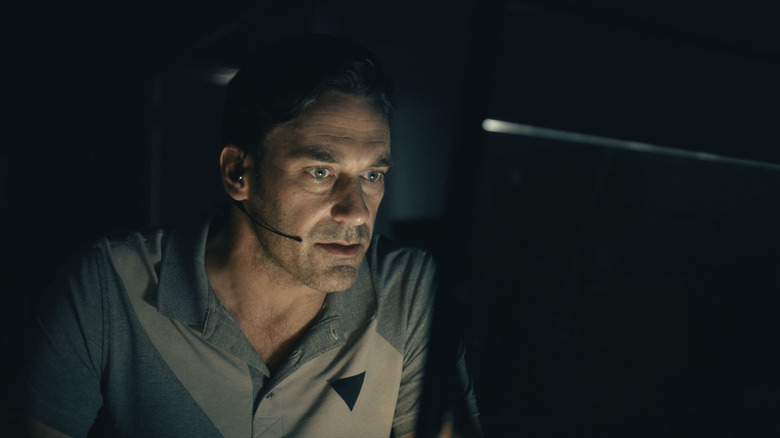 October is traditionally the month for scaring yourself silly with horror movies, but the most chilling tales you'll see this fall may well be on television. Netflix has just announced a fall release date for the third season of Black Mirror, Charlie Brooker's highly acclaimed anthology series about how the combination of advanced technology and human nature is basically a recipe for self-destruction. 
Black Mirror originally debuted in 2011 on the UK's Channel 4, airing six episodes (plus one Christmas special) over three years. In 2014, Netflix added the existing episodes to its catalogue, and last year Netflix officially ordered 12 new episodes. Today at the TCA press tour, Netflix revealed exactly when we'll start seeing those new installments: the first six episodes will land October 21, just in time to get good and terrified before Halloween, with six more arriving next year.
For those who've never seen Black Mirror, the show is like a more twisted, more technophobic Twilight Zone. Each episode features a new team of stars, writers, and directors, and tells a completely contained story that has nothing to do with the other installments. The only thing that links them are a slightly futuristic setting, and a shared interest in exploring all the ways that technology and humanity intersect. Notably, it's not that technology itself is evil in Black Mirror – we're not talking about Skynet or the Matrix. It's more that gadgets, the internet, etc. amplify our existing imperfections, helping humans come up with cruel new punishments, exacerbate existing inequalities, avoid personal interactions, or indulge the unhealthiest parts of our psychologies.
As previously reported, directors for Black Mirror season 3 include Joe Wright (Atonement), Dan Trachtenberg (10 Cloverfield Lane), Jakob Verbruggen (The Fall), Owen Harris (Kill Your Friends), and James Hawes (Penny Dreadful). Stars include Gugu Mbatha-Raw (Beyond the Lights), Mackenzie Davis (The Martian), Bryce Dallas Howard (Pete's Dragon), Alive Eve (Star Trek Into Darkness), Malachi Kirby (Roots), Madeline Brewer (Orange Is the New Black), James Norton (Happy Valley), Alex Lawther (The Imitation Game), Kelly Macdonald (Boardwalk Empire), and, announced today, Jerome Flynn (Game of Thrones). Brooker has written all 12 episodes of season 3 and will executive produce with Annabel Jones.
[Source: HitFix]