'Pete's Dragon' Early Buzz: David Lowery's Sweet, Sincere Remake Improves On The Original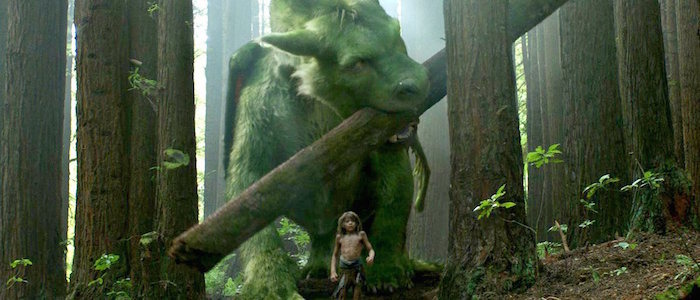 In some ways, Pete's Dragon seemed like an unlikely candidate for a remake. The original was seen by plenty of people, but wasn't exactly an acclaimed classic on par with Cinderella or The Jungle Book (both of which have also recently gotten remakes from Disney). And even once we knew a Pete's Dragon remake was coming, David Lowery seemed like an unexpected choice. As a director, he was best known for the gritty crime drama Ain't Them Bodies Saints; his resume also includes lots of editing work on offbeat indies like Upstream Color.
So would this turn out to be an inspired marriage of material and talent, or an obvious mismatch? Well, the first Pete's Dragon reviews are in, so you can find out for yourself after the jump. 
The word you're looking for is "sincerity." It'll be on the tip of your tongue from the opening shots of "Pete's Dragon," a warm, wistful, and wholly wonderful remake of a 1977 Disney musical that today's kids have never heard of and yesterday's kids have long since forgotten. That word, baked into every aspect of this rewarding live-action fable, will be staring you in the face as the film's powerful prologue careens from adventure to tragedy and back again.
Michael Rechtshaffen at The Hollywood Reporter:
But despite there being ample room for improvement, the extensively reimagined Pete's Dragon fails to breathe fresh life into the 40-year-old property. Directed and co-written by David Lowery (Ain't Them Bodies Saints), the notably darker interpretation turns out to be, like the CG creature itself, a moody, lumbering thing that seldom takes flight.
The result is one of the year's most delightful moviegoing surprises, a quality family film that rewards young people's imaginations and reminds us of a time when the term "Disney movie" meant something: namely, wholesome entertainment that inspired confidence in parents and reinforced solid American values. It's old-fashioned in all the right ways, from the patient pace at which the story unfolds to the appearance of Robert Redford as its grizzled narrator — the only other person to believe Pete (Oakes Fegley), having once witnessed the Millhaven dragon with his own eyes.
Creating a wonderful screen creature, a thing with personality, power, even a little menace, isn't easy. Giving it a fully-realized home is far more difficult. The filmmaker behind the sober crime drama "Ain't Them Bodies Saints" may have seemed an odd choice to revamp an awkward and goofy Disney film, but David Lowery's ease with actors and command of tone make "Pete's Dragon" one of the best remakes in recent years.
This might seem crazy, but the movie I couldn't stop thinking of during Pete's Dragon (once the indie music settled down) was Super 8. Specifically, "Oh, Pete's Dragon is a better Super 8." It's set in the 1980s (and, thankfully, the film does not make a big deal out of this, it was maybe a half hour into the movie before I realized). There are kids involved. There are single parents involved. There are mysterious monsters that no one seems to understand. There are the Spielberg-esque wide-eyed looks of astonishment that J.J. Abrams tried to capture, that Lowrey does better. Who knew David Lowrey could make a better Spielberg movie than J.J. Abrams? (And, if compared to The BFG, better than Spielberg himself, this year.)
Jordan Raup at The Film Stage:
By simply utilizing the basic set-up of a lesser original feature and giving its director the freedom to infuse his own distinct sensibilities, Pete's Dragon sets an ideal standard for what Hollywood should be doing in the remake realm. In capturing childlike wonder through Pete's eyes, this film has more than a few heartbreaking moments regarding the definition of a home and the people (or fantastical creatures) that give it life. And by keeping things relatively small-scale, David Lowery's studio debut retains a personal touch with an unceasing supply of magic running through its lovable, full-hearted soul.
Robbie Collin at The Telegraph:
Lowery's previous film, the (significantly cheaper) crime romance Ain't Them Bodies Saints, elevated a downbeat story flecked with blood and spit to the realms of fairy-tale – and he takes a similar approach here, making Pete's tentative rediscovery of family life hum with a low-key, Spielbergian magic.
Scott J. Davis at Flickering Myth:
Taking some guidance from Dreamworks' stunning How To Train Your Dragon series, this Elliot is more soaring beast than apple-cooking pet: Lowery and Halbrooks (and Disney's) intent on adding as much realism to proceedings while still maintaining the magic and the bond between the two is a tricky juggling act but they pull it off brilliantly and he CGI that brings our green beasty to life is so brilliantly realised that it may be the best thing the new Disney has produced thus far.
Kevin Jagernauth at The Playlist:
Thankfully, however, "Pete's Dragon" is much more often technically smart and emotionally intelligent, with this endearing bauble of a film containing a big beating heart inside. Just scampering over the 90-minute mark, and featuring little in the way of grand spectacle, "Pete's Dragon" is an anomaly in the summer season, but perhaps that's what makes it so special. The film doesn't just show you Pete and Elliot taking to the sky in majestic flight. It makes you believe that it's real.
***
Pete's Dragon arrives August 12.