'Supergirl' Producer On Tyler Hoechlin's Superman, Cat Grant's Return, And Lynda Carter [Comic-Con 2016]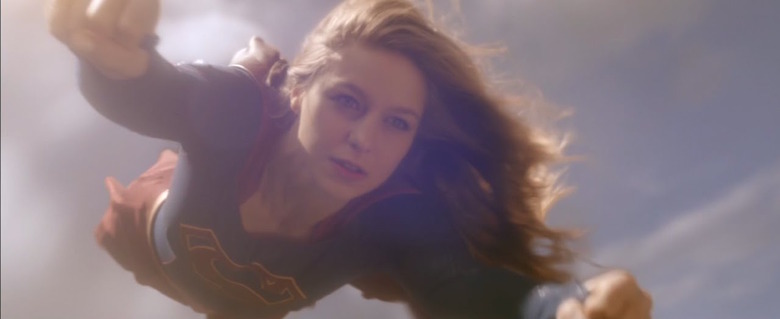 Supergirl moves to The CW this fall but it was business as usual for the show at Comic-Con. The cast and producers gave a panel along with the other DC Comics shows Arrow, The Flash and Legends of Tomorrow, and we spoke with producer Sarah Schechter in a roundtable interview. After keeping Superman mostly off screen in season one, they have cast Tyler Hoechlin as Kal-El/Clark Kent. Schechter described his role on Supergirl and the interpretation of his iconic look we will see.
"Part of it was in season one we wanted to really just establish Kara," Schechter said. "A lot of what we do on these shows is comedy, action, drama and family. It's the family you're given, it's the family you choose. Kara had to really choose a family and build a family here. Clark is the one part of her family that's still alive, now that Laura Benanti is playing Melania Trump. It's a way to learn more about Kara. Tyler is amazing. I've seen him in the suit and it's very cool. You see it and you're like oh, Greg Berlanti and I went to a costume fitting the other day and we were a little speechless. It's our costume designer who came up under Colleen [Atwood] but it's working off of Colleen's design for the Supergirl suit." 
The first season of Supergirl ended on a cliffhanger with Supergirl (Melissa Benoist) looking into a rocket ship that landed from space. Schechter knew all long what she saw in there, but we'll find out in season two.
"We knew and then we had all summer to cast it," Schechter said. "That's what we needed the time to do. What's in the spaceship will also help us a lot in terms of Kara's journey in season two. Her coming to terms with can she have it all, her defining what she wants her life to be."
Supergirl has also added Lynda Carter as the President of the United States. "My personal hope is that it's a good foretelling of things to come with our own presidency," Schechter said. "Lynda Carter is amazing and her role as Wonder Woman was, for a long time, the only female hero that a generation of people had to look to. We want to honor that even as we expand the idea of what a female superhero can be. I think there's going to be some very surprising turns. I think people are going to be really excited. She has some fun stuff to do."
In her alter ego as a CatCo assistant, Kara got promoted at the end of season one. Fans have been speculating on Calista Flockhart's involvement as Cat Grant in season two, but Schechter said she will appear in a limited capacity.
"You'll definitely see Cat Grant but she was very effective by her interactions with Supergirl last year," Schechter said. "Also Kara not being her assistant, you wouldn't see her as much. It's that weird thing when you get promoted and you see your old boss less. There is still Cat Grant. She is not going anywhere."
CatCo is also hiring more characters for the workplace element of the show. "We have Ian Gomez from Felicity is joining us as kind of a Lou Grant, as kind of the Michael Keaton in Spotlight part," Schechter said. "We have some people switching jobs which I think is going to be really great fun too. He's playing Snapper Carr who works at CatCo so there's still CatCo."
One of the major job switches is former CatCo reporter Winn Schott (Jeremy Jordan) joining the DEO, the covert organization that hunts escaped Kryptonians and other aliens. "Winn becomes more involved with the DEO which means we get more scenes of David Harewood and Jeremy Jordan together which is to me endlessly entertaining," Schechter said. "Nobody annoys Hank Henshaw more than Winn Schott."
Supergirl returns Monday, October 10 at 8PM on The CW.