Jessica Chastain Joins Jake Gyllenhaal's Video Game Movie 'The Division'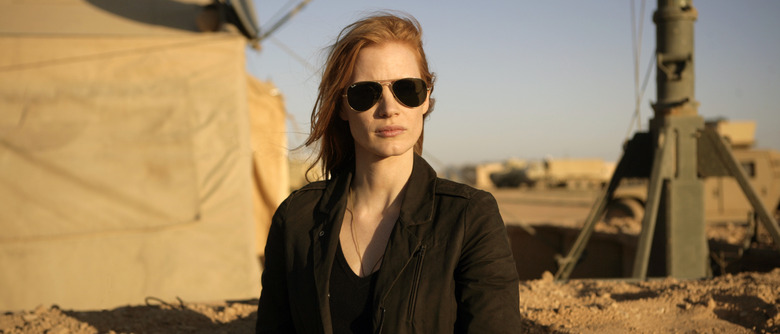 Last month, Jake Gyllenhaal signed on for an adaptation of the Ubisoft video game The Division, despite the fact that his last attempt to bring a video game to the big screen didn't go very well. But hey, he could have better luck this time. Especially now that he's got a very capable co-star to help him out. Jessica Chastain is reportedly looking to join Gyllenhaal in the movie, which he is also producing with Ubisoft Motion Pictures' Gerard Guillemot. 
According to The Hollywood Reporter, Chastain is in negotiations for The Division movie. This will be her first time working with Gyllenhaal. Details of her role have not been revealed. Ubisoft Motion Pictures is currently working on putting together a package to shop to studios, although no director or screenwriter has been announced yet. But it's no wonder Ubisoft wants to move fast. Tom Clancy's The Division was an immediate hit when it was released earlier this year, breaking sales records and becoming one of Ubisoft's best-selling games ever.
The game is a third-person shooter set in a dystopian New York City in the aftermath of a smallpox pandemic. The player is an agent of the Strategic Homeland Division, a.k.a. The Division, is out to contain the criminal activity that's ramped up in the aftermath, investigate the origins of this mysterious outbreak, and help The Division rebuild in Manhattan. It sounds a little like World War Z minus the zombies, and could make for an intriguing premise for a film.
Video game movies have had a very spotty track record, to say the least, but there are several promising projects on the horizon that could turn the tide. This summer's Warcraft may have been eviscerated by critics, but it was a box office hit in China. This winter's Assassin's Creed has some serious talent behind it (including star Michael Fassbender) and looks genuinely impressive. There's also a Tomb Raider movie in the works starring Alicia Vikander, and a Splinter Cell adaptation starring Tom Hardy.
In any case, The Division can't be worse than the last movie Chastain starred in, The Huntsman: Winter War. Her other (less terrible) recent credits include Crimson Peak, The Martian, A Most Violent Year, and Interstellar, and she'll next be seen in the gun rights drama Miss Sloane and the World War II pic The Zookeeper's Wife. She is now shooting The Death and Life of John F. Donovan, the English-language debut of Mommy director Xavier Dolan.