Netflix's 'Stranger Things' Season Two Will Be A Sequel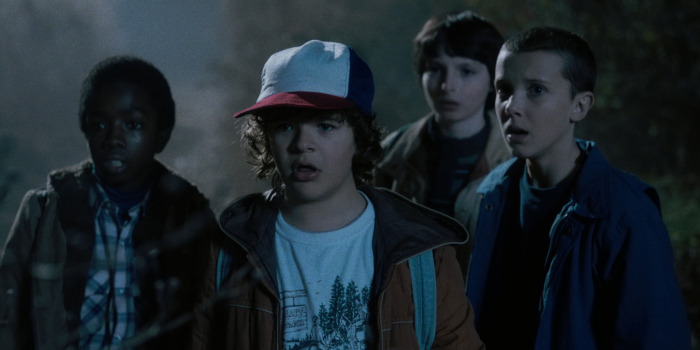 More than a few of you probably spent your time last weekend binge-watching Netflix's latest series Stranger Things. Matt and Ross Duffer's sci-fi show was embraced so quickly by the streaming service's customers that an unconfirmed season two already feels inevitable. The Duffer Brothers have shared a few details about what to expect from the next season of their hit show.
Below, learn more about Stranger Things season two.
Executive producers Shawn Levy and Dan Cohen told us season two would follow the same characters and introduce critical new ones. Season one ended with, as Levy said, "questions that merit future stories and future investigation," especially regarding one key character's surprising change in motivation.
Speaking with Variety, Ross Duffer said there's plenty they know about this world they've yet to show viewers:
There's a lot there we don't know or understand. Even with 'The Upside Down,' we have a 30-page document that is pretty intricate in terms of what it all means, and where this monster actually came from, and why aren't there more monsters — we have all this stuff that we just didn't have time for, or we didn't feel like we needed to get into in season one, because of the main tension of Will. We have that whole other world that we haven't fully explored in this season, and that was very purposeful.
The co-writer/director added we'll see more of what was written in that 30-page document in season two:
We leave these dangling threads at the end. If people respond to this show and we get to continue this story — we had those initial discussions of where we might go with it. If there was going to be a season two, we would reveal more of that 30-page document, but we'd still want to keep it from the point of view of our original characters
Matt Duffer told IGN the next chapter of Stranger Things is more of a sequel than a second season, which is a slightly vague but still telling tidbit:
We don't answer all the questions by the end of the season — there are definitely some dangling threads. The hope is that it feels satisfying but that we left room and that if people respond to it we can go back into this world. But if we do get to go back, it's not a second season as much as a sequel.
Key mysteries are resolved in season one of Stranger Things, but anyone that watched the first eight episodes knows the finale ends with two major scenes setting up what's to come. There are a few unanswered questions left, and since season one of Stranger Things is exceptional entertainment from start to finish, probably more than a few people are excited about receiving the Duffer Brothers' answers to those questions.