'The Get Down' Trailer: Baz Luhrmann Chronicles The Rise Of Hip-Hop In 1970s New York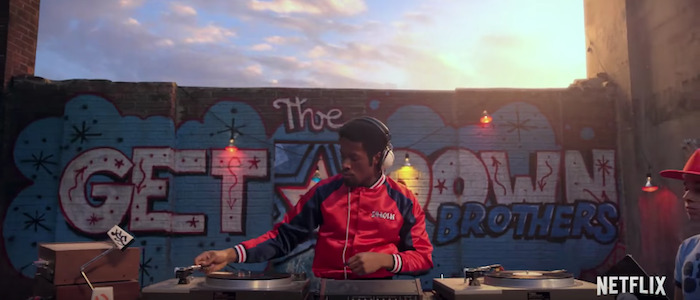 Last month, HBO cancelled Terence Winter and Martin Scorsese's Vinyl after already having renewed it for a second season. But if you're mourning the loss of your window into the 1970s New York music scene, fear not – Baz Luhrmann's The Get Down is arriving in just a few weeks. Though to be fair, this 1970s New York-set music drama looks pretty damn different from that other 1970s New York-set music drama.
The Get Down unfolds at the dawn of punk, hip-hop, and disco, following the "young, scrappy, and hungry" types at the forefront of those movements. The cast is loaded with intriguing up-and-comers like Justice Smith, Herizen Guardiola, Shameik Moore, and Skylan Brooks, most of whom are trying to make it in music one way or another. Watch the first The Get Down trailer after the jump, but be warned it may make you really frustrated that you can't watch the show right freakin' now.
Music has always been a hugely important part of Luhrmann's films, so The Get Down seems like a pretty ideal fit for him. The trailer has a wonderful energy and rhythm to it, and it packs a lot of heart, drama, and great music into two and a half minutes. This show also deserves credit for establishing the period setting without beating you over the head with it, as a lot of historical dramas do — it offers a good sense of what the Bronx is in 1977, without constantly winking and nudging at current or future events. Hopefully that stays true of the series as well.
The first six episodes of The Get Down hit Netflix on August 12.
The Get Down is a mythic saga of how New York at the brink of bankruptcy gave birth to a new art form. Set in New York in 1977, this music-driven drama series chronicles the rise of hip-hop and the last days of disco -– told through the lives, music, art and dance of the South Bronx kids who would change the world forever.
The Get Down is from Baz Luhrmann and a team of collaborators including four-time Oscar® winner and fellow executive producer Catherine Martin, legendary MC and executive producer Nas, associate producer Grandmaster Flash, Pulitzer Prize winning playwright, co-creator and executive producer Stephen Adly Guirgis; and expert collaborators, including hip-hop historian and supervising producer Nelson George.
Shameik Moore (Shaolin Fantastic), Justice Smith (Ezekiel "Books" Figuero), Herizen Guardiola (Mylene Cruz), Yahya Abdul-Mateen II (Cadillac), Jaden Smith (Dizzee Kipling), Skylan Brooks (Ra-Ra Kipling), Tremaine Brown Jr. (Boo Boo Kiping), Mamoudou Athie (Grandmaster Flash), Jimmy Smits (Francisco "Papa Fuerte" Cruz) and Giancarlo Esposito (Ramon Cruz) star.