'Bad Santa 2' Teaser: Willie Soke Suits Up For Another Christmas Season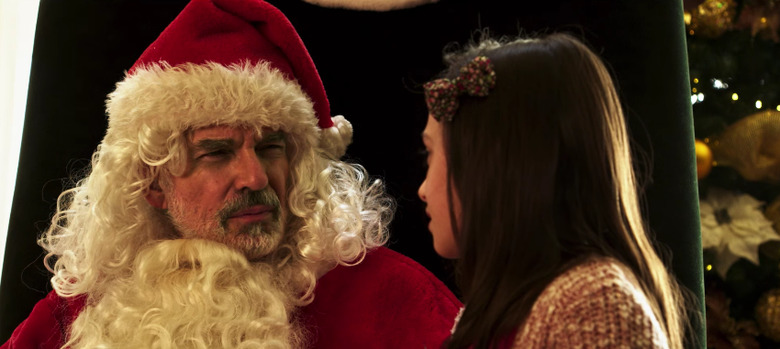 Bad Santa 2 was in on-again, off-again development for so many years that I kind of assumed it'd never happen. But the long-awaited comedy sequel got a shot in the arm last fall when Broad Green Pictures came on board, and now we're just a few months away from finding out what Willie Soke has been up to for the past 13 years.Billy Bob Thornton returns as Willie Soke, still a halfway decent thief and a truly terrible mall Santa. Willie's former partner Marcus (Tony Cox) and Willie's young buddy Thurman Merman (Brett Kelly) are also back from the first film. New to the cast this time are Kathy Bates as Willie's tough-as-nails mother, Sunny Soke, and Christina Hendricks as Willie's latest mark, Diane. Watch the first Bad Santa 2 teaser below. 
In Bad Santa 2, Willie and Sunny, who's just as mean and foul-mouthed as her son, try to scam a charity headed by Diane. Although Diane looks prim and proper on the outside, she apparently "has a thing for shady lowlifes in a Santa costume," so Willie should be just her type. Ryan Hansen (Veronica Mars) is Diane's husband, who runs the organization with her. Jeff Skwron, Jenny Zigrino, and Cristina Rosato also star.
Mark Waters (Mean Girls) is directing Bad Santa 2 from a script by Shauna Cross (Whip It) and Doug Ellin (Entourage). The first film was directed by Terry Zwigoff from a script by Glenn Ficarra and John Requa. The new team has their work cut out for them — it still seems like a minor Christmas miracle that the first Bad Santa was able to combine bitter, sour, salty, and sweet so well, and that exact formula could be tough to replicate.Bad Santa 2 opens November 23. That's Thanksgiving weekend, for all you misanthropes who'd rather spend the holiday getting soused with Willie than sharing hugs and pumpkin pie with your families.