How '24: Legacy' Was Inspired By SEAL Team 6 [Comic-Con 2016]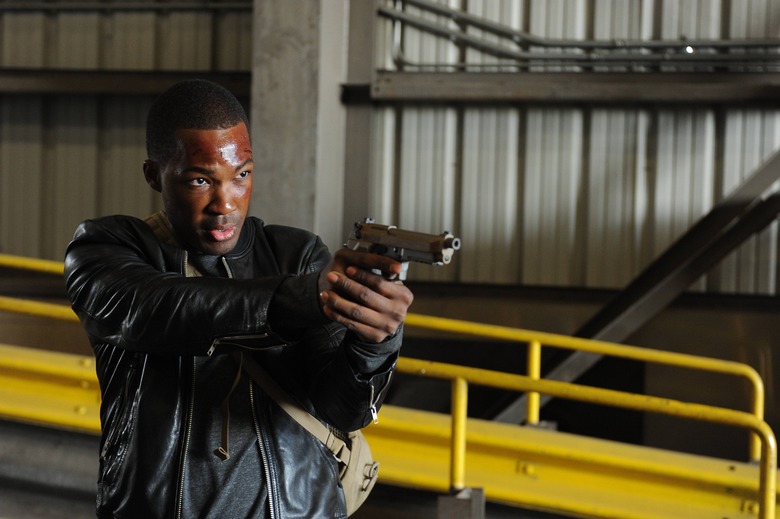 24: Legacy won't be on until midseason, but the cast and creators came to Comic-Con to get the fans excited early. Corey Hawkins (Straight Outta Compton) plays the new hero Eric Carter, joined by Miranda Otto and Jimmy Smits in the cast. We interviewed the creators of 24: Legacy, Manny Coto, Evan Katz and Howard Gordon, all the creators of the original 24, in a roundtable where they shared a surprising inspiration for the new story.
"It was suggested by events leading to the shooting of Osama bin Laden," Coto said. "What we had read about was the soldiers who had actually done it, having done this wonderful heroic thing for the country, many of them had to go into hiding. The FBI told one of them when he asked, 'What do I do for a living?' 'We can get you a job as a truck driver.' It was fascinating that idea, that nugget, the idea that these great heroes would have to go into hiding and take menial jobs. That became a spark for such a character, part of a team that killed a very notorious terrorist, a fictionalized version, now is living his life, trying to get his life back together. Now one by one the members of the squad are being killed. He realizes someone has given up our names and I'm next." 
All of that happens prior to the first hour of Legacy. Then they had to figure out what Carter's adventure would be for the next 24 hours, 12 of which will be portrayed on screen in real time.
"Once that's the initial spark, it took us a year to figure out what the story was," Coto continued. "That gave us a new character, which is a young soldier who is not Jack Bauer. Jack Bauer was a seasoned agent when the series first began. This guy is a soldier and young and is not a spy. He's not a counter-terrorism agent. He is basically given orders where to shoot, who to kill. Now he's got to enter a world where everyone's gray, he doesn't know who's bad or who's good. It's basically seeing the education of counterterrorism."
Despite the different approach to the character, it sounds like 24: Legacy will mostly be business as usual once Carter gets up and running. "In classic 24 fashion, what we find out is that the murders of these soldiers, there's something else going on bigger," Coto said. "It's not just revenge. I'll say that."
24 began with a presidential candidate. Legacy begins with another, played by Smits. Otto represents CTU. "Miranda Otto ran CTU and has actually given up her post," Gordon said. "This was the last mission in her tenure as CTU director. She's married to a rising senator played by Jimmy Smits who actually deferred her last presidential run so that she could complete her mission. Now it's his turn. She's given up her post for this election and it turns out her resignation may be a little premature."
24: Legacy got a lot of press for casting an African-American lead. Now that Hawkins has the role, it's his humanity that distinguishes him from Kiefer Sutherland's Jack Bauer.
"To me, there's an innocence about him," Coto said. "Jack had very little innocence about him. Corey has an innocence. You look at his face and he seems to be someone who looks at the world with a very positive outlook on the world. He's going to be disabused of that as the series goes along. So he projects a cunning but also an aspirational innocence that's just endearing."
Not that Carter is perfect. There'd be no drama in that. "I mean, he has some issues with being this extraordinary hero who has come back from a war and has to live in suburbia," Katz said. "That's interesting and unsettling. But he's idealistic. He's used to being told where to shoot and clear rules of engagement. In many ways, the first season is about the education of an agent."
Since 24: Live Another Day proved 24 could be done in 12 hours, 24: Legacy is following that model. "Every episode is real time but there will be a time jump within the season that will let us complete a 24 hour day," Katz said.
The producers have not ruled out appearances by classic 24 characters. Everyone is asking about Jack and Chloe (Mary Lynn Rajskub).
"This is not a reboot," Coto said. "This is an expansion of the 24 universe so it's very likely that this world will intersect with the previous one in some capacity, at some point. Various characters, Jack, who knows. [Chloe], very possible. Those characters are still out there and alive and doing their own things."
24: Legacy premieres Super Bowl Sunday, February 5, 2017.