'Captain Marvel' Casts Brie Larson As Carol Danvers [Comic-Con 2016]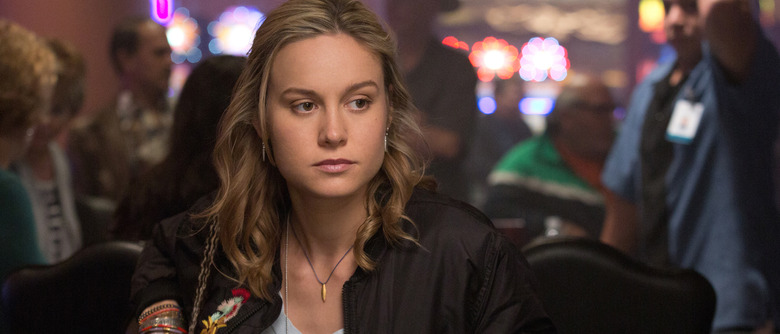 You can always count on Marvel Studios to put on a grand show in Comic-Con's Hall H, and this year was no exception. Among other things, the studio talked a bit about Captain Marvel, their first solo female superhero movie. For weeks now Brie Larson has been rumored to be the frontrunner for the title role, and at Comic-Con today Marvel Studios finally confirmed the news.
Call me Captain Marvel. pic.twitter.com/IgqRIb9ijM

— Brie Larson (@brielarson) July 24, 2016
First, a little background: Captain Marvel is the superhero nom de guerre for Carol Danvers, an Air Force pilot who gains powers after she's exposed to alien DNA. Her special abilities include super-strength, flight, and the ability to shoot energy from her hands. For much more on Captain Marvel and her history in the comics, check out our explainer.
Larson's year got off to a great start as she won her first Oscar for leading Lenny Abrahamson's Room. Next up for her are Kong: Skull Island, starring another Marvel favorite, Tom Hiddleston, Free Fire from Ben Wheatley. She is now shooting The Glass Castle, which reunites her with Short Term 12 director Destin Cretton. Her other past credits include Scott Pilgrim vs. The World, 21 Jump Street, The Spectacular Now, and Showtime's United States of Tara.
Captain Marvel is likely to make her Marvel cinematic universe debut in 2018's Avengers 3, though it's always possible she'll cameo in one of the films before that (like Thor: Ragnarok or Black Panther, perhaps in an end credits scene). No director has been announced, although it's been reported Marvel Studios wants a female director to take on the job. Among those rumored to be in the running are Jennifer Kent (The Babadook) and Niki Caro (Whale Rider).
Captain Marvel arrives in theaters March 8, 2019.