'King Arthur: Legend Of The Sword' Trailer: A King Raised On The Streets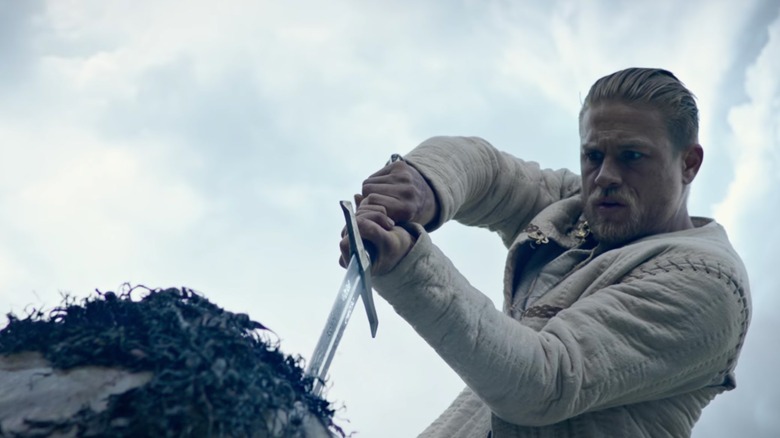 Sadly, director Guy Ritchie didn't attend Comic-Con this year to promote a Man From U.N.C.L.E. 2. We're not going to see that sequel anytime soon (or ever...), but Ritchie is currently hard at work on King Arthur: Legend of the Sword. Today, the first trailer for the fantasy film debuted at San Diego Comic-Con. Since Ritchie was preoccupied, only Charle Hunnam (Pacific Rim) was present to discuss the movie, which he described as possessing a "magical realism" quality.
Below, watch the King Arthur: Legend of the Sword trailer.
Starring alongside Hunnam in Ritchie's take on this classic story is Jude Law as the villainous Vortigern, Annabelle Wallis as Maid Maggie, Eric Bana as Uther Pendragon, Djimon Honsou as Sir Bedevere, and Aidan Gillen as Goosefat Bill. Guy Ritchie co-wrote the film with Joby Harold (Edge of Tomorrow) and producer Lionel Wigram, who worked on Ritchie's Sherlock Holmes films and The Man from U.N.C.L.E.
King Arthur: Legend of the Sword Trailer
Here's the King Arthur: Legend of the Sword trailer:
Tonally, this modern retelling seems more slightly more solemn than Ritchie's past few efforts. The director's sense of humor is usually a highlight of his work, but King Arthur: Legend of the Sword doesn't look like it's big on laughs. That's not a criticism of the trailer or of what they're going for; it just looks like Ritchie is reigning in his signature tone and style more than we've seen him do before, which feels right for a movie set in this period. There are a few stylish touches in the trailer — the opening snorriCam shots, the slow-motion and all that good stuff — that completely scream Guy Ritchie, though. The director's appealing frenetic style isn't absent from this footage.
Here's the official synopsis:
Acclaimed filmmaker Guy Ritchie brings his dynamic style to the epic fantasy action adventure "King Arthur: Legend of the Sword." Starring Charlie Hunnam in the title role, the film is an iconoclastic take on the classic Excalibur myth, tracing Arthur's journey from the streets to the throne.
When the child Arthur's father is murdered, Vortigern (Jude Law), Arthur's uncle, seizes the crown. Robbed of his birthright and with no idea who he truly is, Arthur comes up the hard way in the back alleys of the city. But once he pulls the sword from the stone, his life is turned upside down and he is forced to acknowledge his true legacy...whether he likes it or not.
King Arthur opens in theaters March 24th, 2017.