How History Influenced 'Game Of Thrones' Battle Of The Bastards [Comic-Con 2016]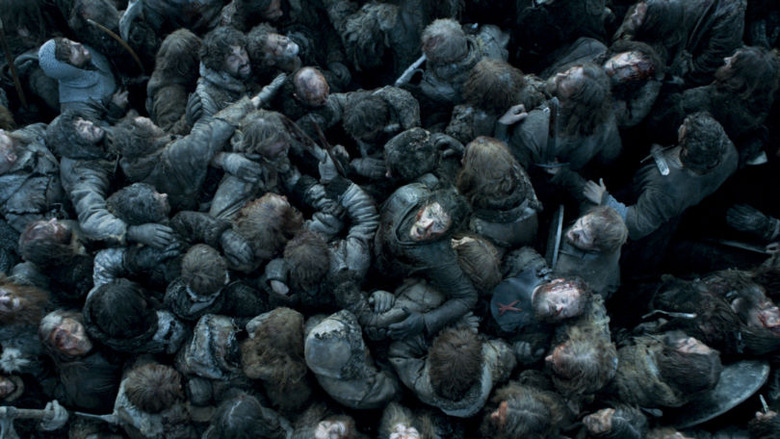 Earlier this year, "Battle of the Bastards" blew Game of Thrones fans away. Originally, as director Miguel Sapochnik previously told us, the episode was larger in scale, but nobody would've figured that by watching Jon Snow (Kit Harrington), the wildlings, and many more go up against Ramsay Bolton's (Iwan Rheon) army. Sapochnik, who also directed the season six finale, was present during this year's Game of Thrones panel at Comic-Con, where he shared a few facts about the battle.
Below, learn more about the epic Game of Thrones sequence.
History has often influenced the series' author, George R.R. Martin, and the show's creators David Benioff and D.B. Weiss. "He drew on Mongols, he drew on Native Americans, and he drew on everything," Weiss said. "We get to do the same thing. We get to look at everything awful that's happened in the world, not just one part of the world, and cram it into ten hours or seven hours." Miguel Sapochnik had the opportunity to cherry pick from history with Battle of the Bastards as well.
When it comes to awful, bloody battles, the director and all involved were initially inspired by the battle of Agincourt, which took place in 1415 between the French and the English. Due to budgetary reasons, the sequence ended up more so resembling parts the battle of Cannae fought by the Romans and Hannibal Barca's army of Carthage in 216 BC.
Here's what Miguel Sapochnik had to say about the episode:
Really when we talked about it the whole idea was to steep it in history and strategic battles. The French and the English fought it out in a field, and the English attacked the French in a circle. Once they had them in the circle, they basically just had the archers mow people down.
Originally, that circle was created by horses, but apparently, horses don't like it when you rush them at people. If more horses were in the episode, then Jon Snow and his army would've had to force their way through them. Instead, Sapochnik and the team decided to "run people at people."
One of the first images the director had in his head for the battle was the stockpile of bodies (as seen above). The idea of soldiers falling and finding themselves stuck in a dogpile of dead soldiers sounded completely "horrible" to Sapochnik, meaning it was well suited for Game of Thrones.
So far, Sapochnik has directed several episodes of Game of Thrones that fans think awfully highly of, including season five's "Hardhome" and season six's "The Winds of Winter." Unfortunately, he's not directing an episode for season seven, but he said during the panel he is hoping to return to the series at some point.