'Game Of Thrones': Sophie Turner Explains Why Sansa Didn't Tell Jon About You-Know-What [Comic-Con 2016]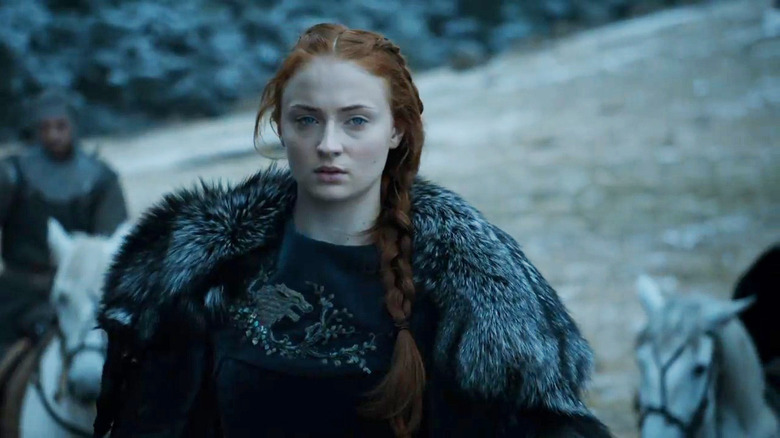 Season 6's "Battle of the Bastards" was unquestionably one of the most thrilling hours Game of Thrones has ever done, tense and tragic and action-packed, with a dramatic last-minute twist to boot. But it also opened up some questions that still have fans scratching their head – mainly, why Sansa opted to withhold a certain crucial bit of information from a trusted ally.
At the Game of Thrones Comic-Con panel today, actress Sophie Turner finally offered her take on Sansa's actions — as well as some intriguing speculation about what's next for the Starks. Major spoilers for the most recent season follow. 
Panel moderator Rob McElhenny got the big question out of the way, asking Turner why Sansa opted not to tell Jon Snow about the Knights of the Vale. "That's what I was wondering too," Turner admitted. But she gamely speculated anyway. "Sansa didn't tell Jon because she wanted all the credit. And it was a more dramatic moment when they showed up and it makes for really dramatic television."
Turner also spoke about how she thought the events of the last two episodes of Game of Thrones season 6 would affect Sansa's relationship with Jon. "I think Sansa believed it was probably more of a joint effort in terms of the Battle of the Bastards," she said. While Sansa's no longer interested in sitting on the Iron Throne, "she thinks they should both jointly be King and Queen in the North," said Turner.
In other words, Sansa was probably not thrilled to sit by and watch Jon get declared King in the North while she got no public credit at all. "I'm not sure she believes Jon is capable of running Winterfell and the North. I think he doesn't have the intellect, the knowledge, the experience that she has. And I concur," said Turner. "She knows he has wonderful morals and that kind of — those Stark morals, that inevitably he'll make the right decisions, or the good decisions, but whether it's going to benefit anyone is another story."
Turner also addressed speculation that Jon and Sansa could become a couple, now that we know Jon and Sansa aren't half-siblings but cousins. Long story short, it's not happening — at least if Turner has anything to do with it. "Sansa and Jon have grown up together and they may as well be siblings," Turner pointed out. She then turned to the showrunners, David Benioff and D.B. Weiss. "I swear to God, Dave and Dan, if you make anything happen, I'm going to kill you."
And they may have reason to fear Turner's wrath, given that Sansa's started to reveal more of a dark side. Turner named Sansa's final scene with Ramsay Bolton as her favorite scene to shoot this season ("It was an honor to be killed by you," joked actor Iwan Rheon), and acknowledged that Sansa may have developed a taste for killing. "I don't know if she's gonna do the right thing and be a true Stark, or if she's going to be sadistic." Director Miguel Sapochnik confirmed that the scene had been shot to be "slightly ambiguous about what her feelings are" about Ramsay's death.
In any case, Turner definitely has a sadistic streak. "I think I'd want Littlefinger on the throne," she admitted. "I just think it would be fun. It would be quirky. Sadistic." The crowd groaned good-naturedly, but Turner continued undeterred. "We like that kind of thing, come on. We all watch Game of Thrones."