'The Walking Dead' Season 7 Trailer Reveals Ezekiel And The Kingdom [Comic-Con 2016]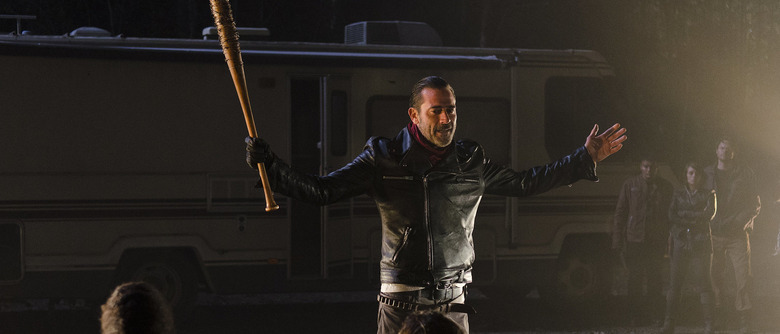 No, we still don't know who was at the other end of Negan's bat in that The Walking Dead season 6 cliffhanger. But AMC did reveal the first The Walking Dead season 7 trailer, which among other things features the very first glimpse of Khary Payton in character as Ezekiel. And yes, Shiva is sitting beside him. Watch the Walking Dead season 7 trailer below.
To fans frustrated by the Walking Dead season 6 cliffhanger, Robert Kirkman has a message. "The frustration will be over soon," he reassured the Comic-Con crowd. "It's absolutely worth the wait." As previously reported, the identity of Negan's victim will be revealed in the first episode of season 7. Actor Jeffrey Dean Morgan milked the Negan character for all he was worth, sauntering onto the Hall H stale wielding Lucille. "You can breathe, you can blink, you can fucking cry — oh hell you're all going to be doing that," he said as he walked toward panel moderator Chris Hardwick, "or you can lead us in a little moderation."
Negan isn't the only exciting new face for Walking Dead season 7. The next run of episodes will introduce the comic book character Ezekiel, as well as The Kingdom. "He's a bit younger than Ezekiel is in the book, a bit more svelte," acknowledged Scott Gimple. "But [Khary Payton] came in and owned it, and the most important thing is, when I showed his audition to Robert [Kirkman], Robert went bananas."
"That world is expanding, it's getting more complex, we're going to find more people we haven't met before, living in the apocalypse and figuring out how to survive," said Gale Ann Hurd. "Our characters are going to be meeting both friend and foe and there might be some interesting non-human characters as well." They'll also be encountering "different styles of leadership," some more benevolent than others. And the characters are on track for a serious conflict. "We're heading toward one of the greatest showdowns I think we've had in the show since Terminus," said Andrew Lincoln.
The Walking Dead premieres Sunday, October 23. Eight episodes will play in 2016 and eight more in 2017.