'Luke Cage' Panel Recap: "The World Is Ready For A Bulletproof Black Man" [Comic-Con 2016]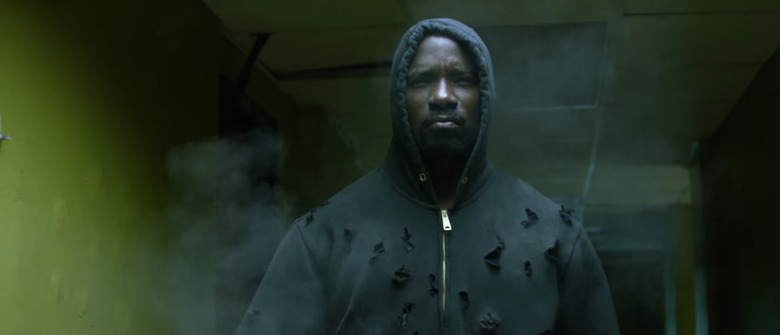 On Thursday, Marvel TV took over Comic-Con's second biggest venue, Ballroom 20, to present their next new Netflix series, Luke Cage starring Mike Colter. Fans were first introduced to the indestructible bartender in last year's Jessica Jones, but this fall he'll branch out on his own to become the hero of Harlem.
Marvel TV's Jeph Loeb was on hand to moderate the panel, with showrunner Cheo Coker and actors Mike Colter, Mahershala Ali, Alfre Woodard, Frank Whaley, Theo Rossi, and Simone Missick all onstage to tell you why Luke Cage could be your next new favorite show. Below, read a rundown of everything we learned at the Luke Cage Comic-Con panel, including who all the new villains and allies are, and what makes Luke Cage unique in the Marvel universe. (And don't forget to check out the first Luke Cage teaser trailer and our Luke Cage footage recap if you haven't already.)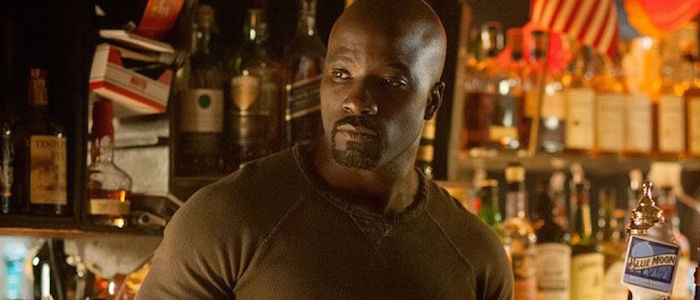 Music is a huge influence on Luke Cage.
When Cheo Coker and Jeph Loeb talked about what made Luke Cage unique, one word that came up was "musicality." Coker revealed that every single episode of Luke Cage would be named after a different GangStarr song.
"It's kind of what I'd call the Wu Tang-ification of the Marvel universe," he said. "It's got an attitude, a flavor, a grit, but it's elegant at the same time."
That choice is a conscious throwback to the days when albums, not singles, ruled the music world. "
I wanted the 13 episodes to feel almost like an album," Coker continued. "Binge watching is the only thing [anymore] where you sit down and there's a rhythm to everything that's connected."
And Coker knows all about music. "I was one of the first and last people to interview Biggie at Vibe," he revealed. "He was such an incredible storyteller with his rhymes, but he also loved gangster movies." Indeed, one of Luke Cage's antagonists, Cornell Stokes, takes very conscious inspiration from the late rapper — read our Luke Cage footage recap for more.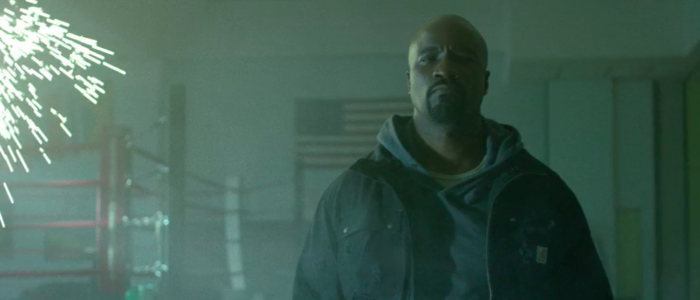 Harlem is like another character in the show.
While Daredevil and Jessica Jones are based in Harlem, Luke Cage unfolds a few miles uptown, in New York City's Harlem neighborhood. And the writers and producers were very conscious of the location. "We all have numbers on the call sheet, but Harlem deserves a number on the call sheet as well," said Alfre Woodard. The actress told us that the series would explore "the cultural and historical importance" of the neighborhood. "Everything that made Harlem what it has been through the decades is there," she said.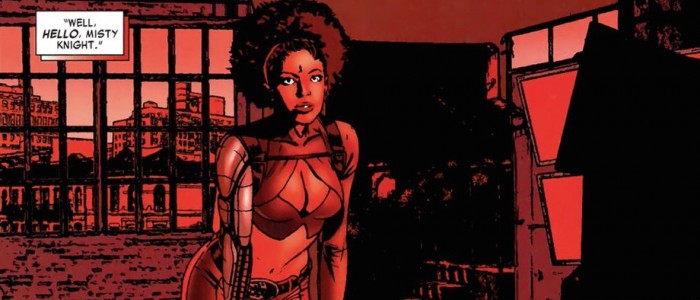 Get excited for Misty Knight.
Misty Knight is an incredibly popular character in the Marvel comics, but Luke Cage marks the first time she'll be prominently featured in a live-action adaptation. Loeb admitted that casting her was a tall order to fill, but said they knew Simone Missick was the one as soon as they saw her. "You came in, you read, you left, and Cheo and I looked at each other and said, 'well, that's done,'" Loeb told the actress.
While Missick admitted to not knowing much about the character before she was cast, she sounded incredibly passionate about Misty Knight now.
"This is this iconic woman who is so strong and self-assured and determined, and to see a woman who is her own person — she's not the wife, she's not the girlfriend, she's not somebody's sidepiece or sidekick, she is absolutely her own thing," said Missick. "For all of the Misty Knight fans out there, this show gives you everything you want with her and more."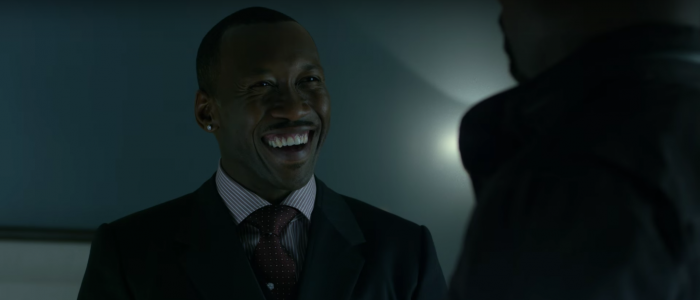 Don't call Cottonmouth and Black Mariah villains.
Based on the footage we've seen, Mahershala Ali's Cottonmouth and Alfre Woodard's Black Mariah should prove more than worthy of standing beside Jessica Jones' Kilgrave and Daredevil's Wilson Fisk in Marvel TV's growing collection of memorable villains. Only Marvel TV doesn't really like to think of them as villains at all. "We don't even refer to them as villains, we refer to them as the other hero of the story," said Loeb.
"He's somebody who went about things in a way that is probably different from the common person, including myself," Ali said carefully. "From day one, it was this exploration of digging to find truth from his point of view, and it was an amazing journey."
Oh, and while you're at it, don't call them Cottonmouth and Black Mariah, either. "It's not something he likes to hear," Loeb teased of Cornell Stokes' nickname. And in one of the Luke Cage clips we saw, Mariah Dillard reacted to Cornell calling her "Black Mariah" by hurling a glass at his head.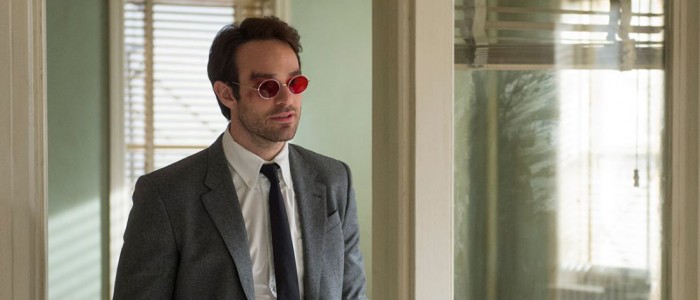 One of Luke Cage's characters found inspiration in Daredevil.
In addition to Cornell and Mariah, Luke Cage will also unleash Shades (Theo Rossi), so named for the sunglasses he is always wearing. To rise to the challenge of acting without his eyes, Rossi looked to a fellow Netflix-Marvel actor. "My research was Daredevil because [Charlie Cox] was wearing glasses and kinda never looking at anybody."
Despite those tinted lenses, Shades may see the world of Luke Cage more clearly than most. "Shades is the ultimate opportunist. He sees things in a different way, he's always looking for a way to move forward," said Rossi. "Whatever's going to bring him to that place, whatever train car he has to jump on, he will."
If that description sounds familiar, maybe that's because he sounds a little like a certain Game of Thrones character. "He's kind of the Littlefinger of Luke Cage," said Loeb.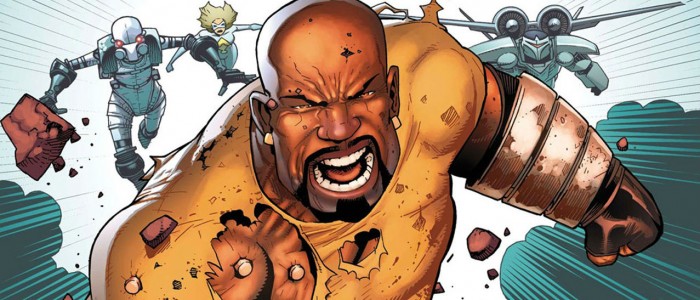 Luke Cage will be unlike anything we've seen before from the Marvel universe.
Luke Cage may share DNA with Jessica Jones and Daredevil, but it's very much its own thing. Among other things, of course, Luke Cage is one of the few black superheroes in the Marvel universe, and the first one to get his own show or movie.
"As we well know, there aren't a lot of African-American superheroes I've been reading comics since I was eight, nine years old, and Luke Cage stood out," said Coker. "Not just because he was black, but because he was funny and interesting and strong. I felt a personal connection to the character."
Although the character of Luke Cage has been around for decades, he's as timely as ever. "Even now, even though the character came out in '72, when I think about it and I think about the impact of what's going on right now," said Coker, "the world is ready for a bulletproof black man."
Of course, Luke's race isn't the only thing that makes his show stand out. "It's forward, it's fun, it's hard, it's got a '90s vibe and at the same time is very much today," teased Coker. He described Luke Cage as having more of a "musicality" to it, as mentioned above. "The way this thing fits together, episodes one through 13 — it's relentless," he promised.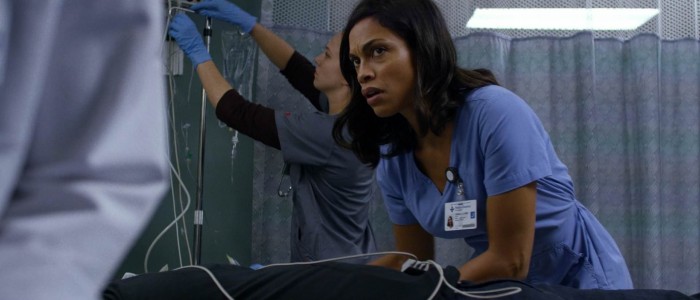 Bonus: Yes, Claire Temple will return in Iron Fist.
Okay, this last little tidbit isn't about Luke Cage, but Netflix/Marvel's next next show, Iron Fist.
"Rosario Dawson could not be here today because she's back east shooting something else for Marvel TV for Netflix," Loeb teased.
The news was welcome but not surprising. Between Daredevil, Jessica Jones, Luke Cage, and Iron Fist, Claire Temple is essentially to Netflix's Marvel shows what Samuel L. Jackson's Nick Fury was to Phase One of the Marvel Cinematic Universe — a thread that helps connect all the individual heroes into a cohesive whole.