'Lethal Weapon' Is A Harmless, Sometimes Surprising Remake [Comic-Con 2016]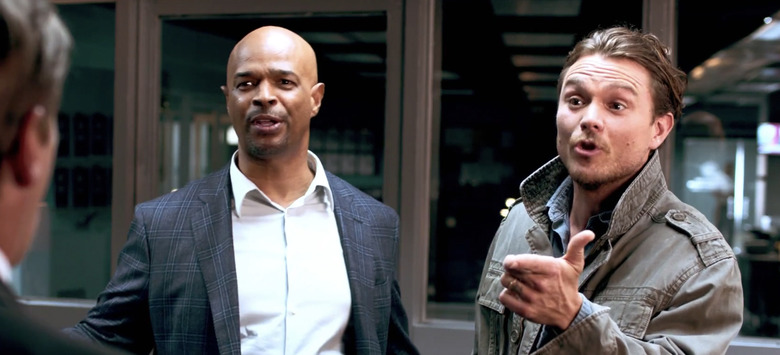 There was a slight sense of dread when Fox announced their Lethal Weapon television series. When it comes to film to TV adaptations, shows like Fargo are the exception, not the rule. These adaptations rarely transcend their predecessor or take the story in a new direction, and Lethal Weapon does stumble in that regard. The pilot is, however, far from the misfire some people predicted after we saw the off-putting trailer for the show. Its quality is inconsistent, especially when it comes to the jokes, but Lethal Weapon, for what it is, is just fine.
Below, read our Lethal Weapon Comic-Con reaction.
The story doesn't depart much from Richard Donner's 1987 film, which gave screenwriter Shane Black (The Nice Guys) his first big break. At the start of the pilot, we greet a much happier Martin Riggs (Clayne Crawford), who's married and has a baby on the way. After brushing a near-death encounter off his shoulders with a laugh, Riggs gets a call from his wife, telling him she's going into labor. The cop rushes to the hospital, but upon his arrival, he's told that his wife was killed in a car accident.
Cut to six months later, he's living in a trailer in Los Angeles, waiting to die. Until that day comes, he'll have to work with his new partner, Roger Murtaugh (Damon Wayans), a father of three that's slowed down because of a recent heart surgery. The two don't hit it off right away. Murtaugh doesn't want a partner that'll get him killed, and Riggs flat out just doesn't want a partner. While they investigate a questionable suicide, the two gain respect for each other and even begin to like each other, flaws and all.
Unlike Time After Time—another television remake that premiered at Comic-Con—Lethal Weapon doesn't follow the original film's beat-by-beat. The series plays in the same sandbox, but it doesn't shamelessly attempt to copy and paste the original film or the series' formula. Riggs and Murtaugh, to an extent, are still Riggs and Murtaugh, but they don't come across as pale imitations of Mel Gibson and Donald Glover's performances.
Wayans and Crawford's banter isn't nearly as amusing as the original duo, but that's the material's fault. The comedy is the pilot's greatest weakness; it lacks the laughs found in the original. The jokes are too broad and obvious. Surprisingly, the drama is more compelling in Lethal Weapon than the comedy. Whenever Riggs opens up about himself or his wife, it's effective. Maybe a little on-the-nose and cheesy, but the sincerity to Crawford's performance sells it.
Overall, the first episode is serviceable, and it's even impressive in parts. There's a ridiculous chase scene set during the Grand Prix shot with total clarity, relies on real stunts, and is also the scene in which Crawford and Wayans start to gel. When it comes to the action, McG, who directed the pilot, has no trouble. The humor and pacing leave a lot to be desired, but Crawford and Wayans and a few fun action scenes make the pilot a harmless, albeit (potentially) unnecessary, remake that manages to surpass some expectations.