'Shrek 5' And Edgar Wright's 'Shadows' Coming In 2019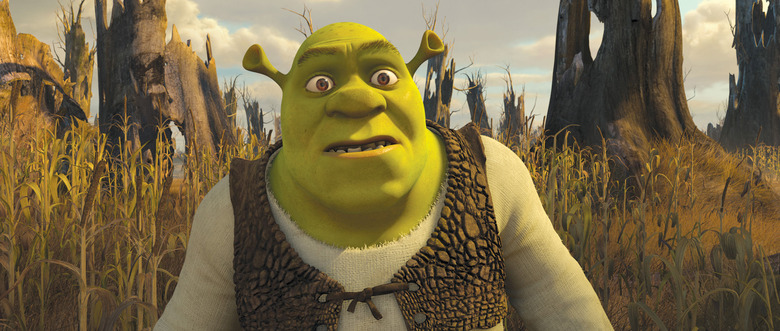 We've heard some stray rumblings over the years that Shrek 5 could be coming, and now those rumblings have turned into something a little louder and clearer. As Universal nails down the final details of their $3.8 billion deal to acquire DreamWorks Animation, the studio is making plans to release Shrek 5 in 2019. And that's not all: they're also moving forward with Shadows, a new feature from Edgar Wright and David Walliams. 
The Shrek 5 and Shadows news comes buried in a larger story about Universal's ongoing acquisition of DreamWorks Animation. The pact was first announced in April, and The Hollywood Reporter writes that the deal could be done as early as August. Once it's closed, Universal wants to start releasing two DreamWorks Animation films per year, starting with Shrek 5 and Shadows in 2019.
The Shrek film series first launched in 2001 and over the next ten years released three sequels and a spinoff (Puss in Boots). The franchise has been dormant since 2011 but given the monstrous success of the earlier films (the five films together have grossed roughly $3.5 billion worldwide, not accounting for inflation), it was surely only a matter of time before someone figured out a way to revive the sleeping giant. No new details have been revealed about the fifth film.
As for Shadows, it's a reworking of an earlier project titled Me and My Shadow. That film was to center around a shadow attached to the world's most boring human. The frustrated shadow tries to bring some more excitement into his life, with potentially disastrous results. The project has been stuck in development hell for the past several years but found new life when Wright and David Walliams came on board to write. They're apparently going in an entirely different direction with the tale, so it's unclear how much of that earlier concept will remain.
Universal has become quite a force in animated films, thanks to Illumination Entertainment's recent string of hits including the Despicable Me movies, Minions, and The Secret Life of Pets. This winter's Sing looks like another potential smash. Their films may not earn quite the prestige and critical buzz of Pixar or Disney, but they've carved out a comfortable niche for themselves as a go-to brand for pleasant family entertainment. Shrek 5 should give them the opportunity to add a familiar brand name to their offerings, while Shadows has the potential to be something unique and interesting.