Dwayne Johnson Will Produce New USA Series 'Muscle Beach'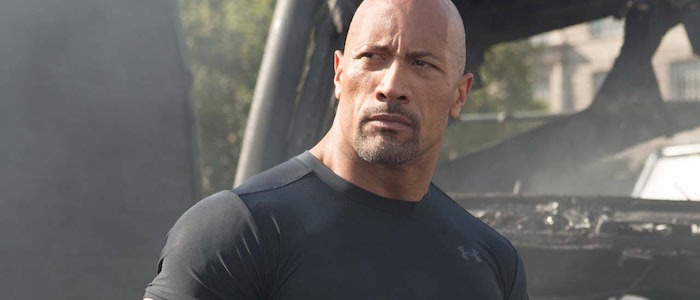 Dwayne Johnson's busy schedule has made room for USA. The actor — who's already attached to the Jumanji remake, Doc Savage, and Rampage – is producing a new television drama, Muscle Beach. The show is set in the 1980s and takes place at Venice Beach's famous workout spot. Johnson says the story follows "lost souls" that "struggle to reinvent themselves by bench-pressing their way to a bigger, better American dream, no matter what the cost." Thematically, it doesn't sound very different from Pain & Gain.
Below, learn more about the Dwayne Johnson TV series.
Johnson, whose other show Ballers returned to HBO this past Sunday, is only producing Muscle Beach, not starring in it. Johnson and Dany Garcia's production company, Seven Bucks Productions, and Flynn Picture Co. are behind the hourlong drama, which is written by Jeremiah Friedman and Nick Palmer. The two screenwriters worked on a potential Karate Kid 2 for Sony.
Johnson announced the news on Instagram, where he often shares updates on future projects or behind-the-scenes pics from whatever he's shooting. Here's what the actor had to write about Muscle Beach:
BIG NEWS: Our @sevenbucksprod along with our producing partner Beau Flynn's @flynnpictureco sell a script titled "MUSCLE BEACH" to USA Network! Written by Jeremiah Friedman and Nick Palmer. An original hour long drama series who's found the perfect home at USA – a network who's been on fire with their brilliant dramatic television. "Muscle Beach" is set in a legendary bodybuilding gym in 1980's Venice Beach where a colorful tribe of lost souls struggle to reinvent themselves by bench-pressing their way to a bigger, better American dream, no matter what the cost. As the series explores the body obsessed fitness movement that took the nation by storm during the supersized Reagan 80's, the excess of the era and the many temptations of Los Angeles will expose the dark side of chasing dreams. As a kid growing up in the 80's it's exciting to produce a series that stays true to our brand and dig deep into an iconic time in bodybuilding and unique Venice Beach culture – the 80's. The 80's was a crazy time in Venice Beach with many lost souls. A very crazy time... #SevenBucksProds #FlynnPictures #USANetwork #OriginalDramaSeries #MuscleBeach
A photo posted by therock (@therock) on
Only two days ago, it was announced that Arnold Schwarzenegger's show, Pump, had found a new home at CBS. That series is also set in Venice Beach but takes place in the 1970s, not the 1980s. Pump and Muscle Beach may explore some of the same ideas, but they sound like different stories that may only share a few similarities. There's no word on when we might see either show.