'Queen Sugar' Trailer: Ava DuVernay Teams Up With Oprah Winfrey On The Small Screen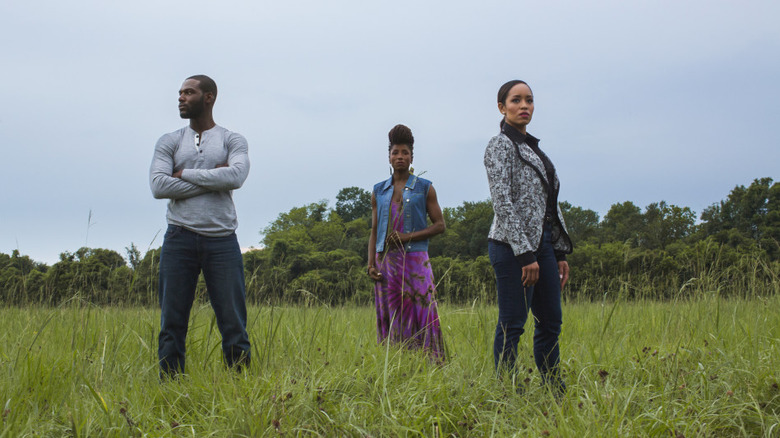 It's been two years since Selma turned Ava DuVernay into one of the hottest, most in-demand filmmakers working today. But she hasn't actually put out another movie since then. So what's she been up to in the past couple of years? Well, among other things, putting together Queen Sugar, a new drama launching on Oprah Winfrey's OWN network this fall.
Based on the novel by Natalie Baszile, Queen Sugar chronicles the story of the three Bordelon siblings, Nova (Rutina Wesley of True Blood), Charlotte (Dawn Lyen-Gardner), and Ralph Angel (Kofi Siriboe). The family is reunited when the patriarch dies, leaving behind an 800-acre sugar cane farm in Louisiana. Also starring are Tina Lifford and Omar J. Dorsey. The premise looks ripe for bittersweet drama, and the first Queen Sugar trailer certainly delivers on that front. Watch it below.  
Entertainment Weekly shared the first Queen Sugar trailer.
It's a little bit difficult to sort out what exactly is going on in that Queen Sugar trailer and how all of these characters are connected, but you do get a good sense of the general mood, tone, and themes of this series. There's tearjerking family drama, a sweeping scope that covers everything from Deep South farmland to shiny pro basketball arenas, clear-eyed commentary on race in America, and lots and lots of attractive people, attractively shot.
All in all, it looks like an exciting next step for DuVernay, who co-created the series with Winfrey and Melissa Carter, and who helmed the first two episodes. She's joined by an all-female directorial team that includes So Yong Kim (Lovesong), Kat Candler (Hellion), Tina Mabry (Mississippi Damned), and Tanya Hamilton (Night Catches Us).
And as for DuVernay's filmmaking career, worry not — she hasn't abandoned movies. She's got plenty of exciting feature projects coming including the documentary The 13th, which was just announced as the opening night selection for this year's New York Film Festival; the HBO movie The Battle of Versailles; and Disney's A Wrinkle in Time adaptation.
Queen Sugar gets a two-night premiere on September 6 & 7 at 10/9c on OWN.