Rumor: Batman Solo Movie Will Take Place In Arkham Asylum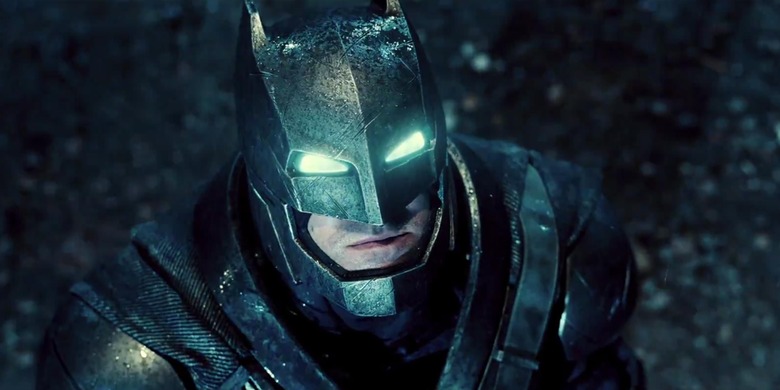 We've known since even before Batman v Superman opened that Ben Affleck's Batman was gearing up for his own solo movie, but as of now details about what exactly that movie will be remain sparse. And naturally, the rumor mill is more than happy to fill that void. The latest totally unconfirmed, take-it-with-a-grain-of-salt report claims Batman's solo outing will take place in Arkham Asylum. Who knows whether this rumor will turn out to be any truer than all of the other ones, but sure, it's fun to think about. 
The Batman Arkham rumor comes from Batman on Film, who cite multiple reliable anonymous sources but stress that "it's just scuttlebutt" for now.
According to this rumor, the solo Batfleck Batflick would involve Batman being locked up in Arkham. For what reason? I have no idea. For how long? No idea on that either. But, it does jibe with the buzz about "a lot of Batman villains" possibly being included in Mr. Affleck's solo Batman film. Such a storyline would be very different from what we've seen in the previous Batman movies as well.
As far as rumors go, this one doesn't seem too farfetched. As the report points out, earlier rumors claimed the Batman solo film would be "crammed with Bat villains," featuring "just about every major bad guy you've ever wanted to see in a movie." An Arkham-set film would certainly be a great excuse to introduce just about every Bat baddie who's ever existed. Plus, it'd be something different from the character — we've never seen a story quite like this on the big screen in live-action.
Moreover, if you squint, it's possible to see how the other DC movies could be paving the way for an Arkham free-for-all. Next month's Suicide Squad introduces a number of Bat-villains to the cinematic universe, including Joker (Jared Leto), Harley Quinn (Margot Robbie), Deadshot (Will Smith), and Killer Croc (Adewale Akinnuoye-Agbaje). And the Batman v Superman Ultimate Edition includes a reference to Arkham Asylum that was cut from the theatrical cut (spoiler alert, kinda?): at the end of the film, Batman reveals he's arranged to have Lex Luthor sent to Arkham.
But again, the "Batman in Arkham" story is just speculation for now. All we know for sure is that Affleck is working with Geoff Johns on the script, which isn't quite there yet. "I have a script, we're still working on it, and I'm not happy enough with it yet to actually go out there and make a Batman movie," Affleck revealed during a Justice League set visit earlier this summer. Once that screenplay is done, we can surely expect to hear much more in the way of actual, confirmed detail about this movie.