'Ash Vs Evil Dead' Banned Comic-Con Trailer: Ash Returns Home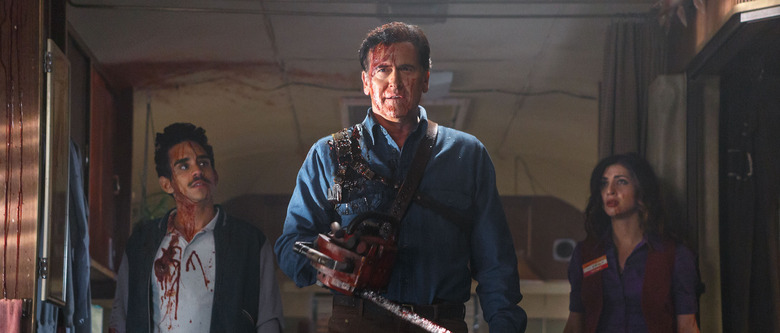 San Diego Comic-Con tries its best to stay family-friendly. Every once in a while, the powers that be deem some footage too mature for kids in attendance. That's what happened with the latest trailer for Ash vs Evil Dead season two, which features plenty of limbs flying through the air and some great, messy practical blood effects.
Below, watch the Ash vs Evil Dead Banned Comic Con trailer.
Two weeks ago, Starz released the first teaser for season two, which stars Bruce Campbell as the titular hero. The character's early retirement in Jacksonville, Florida, is derailed by — no surprise here — evil spirits. Starring alongside Campbell are Lucy Lawless (Ruby), Ray Santiago (Pablo), and Dana DeLorenzo (Kelly). Ted Raimi (Chet, Ash's childhood friend) and Lee Majors (The Six Million Dollar Man), who's playing Ash's father, are the new additions to the cast. Like season one, season two is 10 episodes long.
Here's the extended red band trailer for Ash vs Evil Dead season two:
Sam Raimi directed the Ash vs Evil Dead pilot, but he's not returning to the director's chair for season two. Raimi is, however, still involved as an executive producer. The director behind the original Evil Dead trilogy never revealed too many details about Ash's life before fighting evil spirits, but it looks like Ash vs the Evil Dead will soon explore the character's past.
Before the series even premiered, Starz ordered a second season — a major sign of faith in the show. Executive producer Craig DiGregorio remains the showrunner. An October debut for season two was initially expected, but Starz recently announced the show's return for September 23rd.
Here's the official synopsis for Ash vs the Evil Dead season two:
The second season roars back into action with Ash leaving his beloved Jacksonville and returning to his hometown of Elk Grove. There, he confronts Ruby. The former enemies have to form an uneasy alliance as Elk Grove soon becomes the nucleus of evil.
The cast is led by Bruce Campbell (Evil Dead, "Burn Notice") in the role of Ash Williams; Lucy Lawless ("Salem," "Spartacus") as Ruby, who now possesses the powerful Necronomicon; Ray Santiago ("Touch," Meet the Fockers) as Pablo Simon Bolivar, Ash's loyal sidekick dealing with the trauma he suffered in the cabin; and Dana DeLorenzo (A Very Harold & Kumar 3D Christmas) as Kelly Maxwell, who, grief-stricken after the death of her parents, plots revenge against The Evil Dead.