Return To Santa Carla, California With 'The Lost Boys' Sequel Comic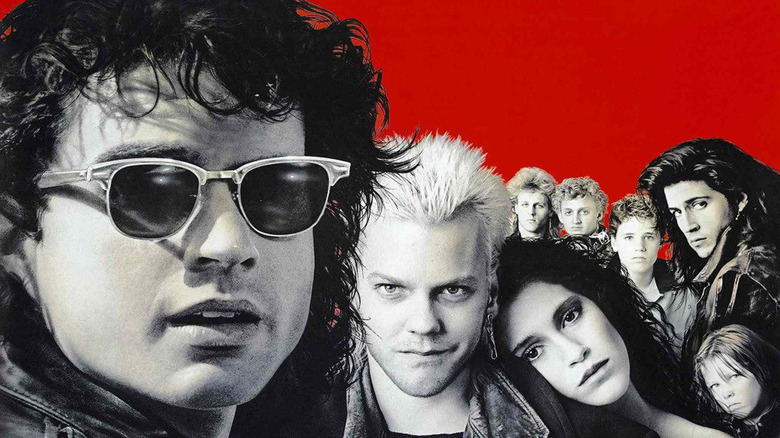 It's a little surprising we haven't heard about a remake of The Lost Boys yet. We've seen two direct-to-DVD sequels to the film (both starring Corey Feldman), but Joel Schumacher's vampire film is certainly well known enough to make someone see dollar signs in a potential update. Before that inevitable day comes, Vertigo Comics is bringing us a sequel to The Lost Boys that follows the film's original surviving characters.
Below, learn more about The Lost Boys sequel comic.
Variety has a first look at the miniseries, which is written by Hack/Slash creator Tim Seeley. The sequel to the film, which turns 30 years old next year, will begin hitting comic book stores on October 12th. The Dark & Bloody's Scott Godlewski and Patricia Mulvihill are working on the art for the comic, while Tony Harris is handling the covers.
Michael and Sam Emmerson, Star, and Edgar and Allan Frog all still reside in Santa Carla, California. After the death of the fictional town's vampire leader, Max, the place is only momentarily rid of its vampire problem. A pack of bloodsuckers called the Blood Belles come to town, searching for their sister, Star. Again, Michael and Sam team up with the Frog siblings to confront the pack of vampires.
Here's a glimpse at the Lost Boys sequel comic:
In a statement to Variety, Seeley discussed what the original film means to him:
I saw The Lost Boys at a formative time in my life, when a VHS, a VCR and a summer afternoon were a perfect escape into a crazy world of biker vampires with mullets and monster-fighting hippy grandpas. The Lost Boys' was one of my entry points into the horror genre, and I've been fascinated ever since. Getting the chance to write a sequel to the film, featuring the original characters, and getting to work with Scott, Patricia and Tony is truly a high point in my comic book-making career.
Godlewski also teased what fans should expect from his work in the comic:
I hadn't revisited the film until after becoming involved with this project and totally understood the fascination and the reason for the devoted cult following. My artistic approach to the series is all about keeping the lighter moments light so that when the blood and guts show up they hit you like a hammer.
There's a total of six issues in the miniseries. In 2008, Wildstorm published a sequel to The Lost Boys as well, titled Lost Boys: Reign of Frog. It took place between the events of the original film and the direct-to-DVD sequel Lost Boys: The Tribe.
Here's one of Tony Harris' covers for the Lost Boys sequel comic: