Final 'Star Trek Beyond' Trailer: "Let's Hope This Doesn't Get Messy"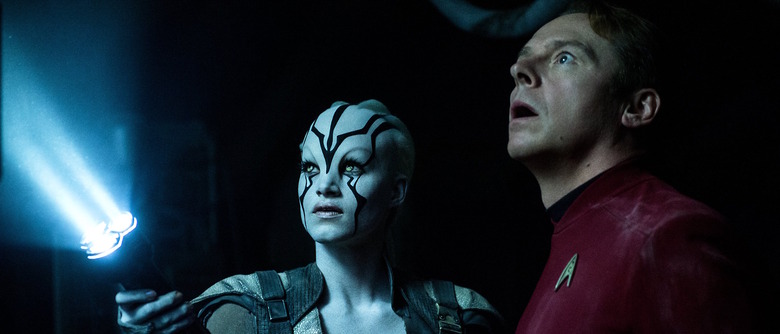 The early buzz is strong for Star Trek Beyond. Oddly, the film may not screen in certain territories for critics, but considering the first wave of reviews are almost as positive as they were for J.J. Abrams' 2009 reboot, maybe that'll change. Inheriting the director's chair from Abrams is Justin Lin (Fast & Furious 6), and another trailer has been released for Lin's sequel.
Below, watch the final Star Trek Beyond trailer.
Chris Pine, Zachary Quinto, Zoe Saldana, John Cho, Simon Pegg, and the late Anton Yelchin return as the crew of the USS Enterprise. The new major additions to the cast are Idris Elba and Sofia Boutella, and the latter manages to steal a few scenes from the ensemble we've come to know and like since the 2009 reboot.
The latest trailer — the fourth one, to be exact — shows a bit too much from Star Trek Beyond, especially from its third act. There are a few shots and moments that would probably be best to experience for the first time in a theater this weekend, but if you need to see more from the sequel a mere four days before it opens, then here's the final Star Trek Beyond trailer:
Since Star Trek Beyond is a summer movie and Paramount wants more than only Trek fans to see the film, the trailers have leaned heavily on the action. The first trailer, in particular, rubbed some fans the wrong way with the use of The Beastie Boys' "Sabotage" (a nod to Abrams' '09 film) and the set piece involving James T. Kirk on a motorcycle.
Trek fans, especially if they enjoyed the 2009 film and/or Star Trek Into Darkness, shouldn't be very concerned about Star Trek Beyond being a nonstop action movie. The set pieces are intricate and often quite large, but at the end of the day, the most compelling scene in the movie features two crew members talking in a cave.
Here's the official synopsis:
"Star Trek Beyond," the highly anticipated next installment in the globally popular Star Trek franchise, created by Gene Roddenberry and reintroduced by J.J. Abrams in 2009, returns with director Justin Lin ("The Fast and the Furious" franchise) at the helm of this epic voyage of the U.S.S. Enterprise and her intrepid crew. In "Beyond," the Enterprise crew explores the furthest reaches of uncharted space, where they encounter a mysterious new enemy who puts them and everything the Federation stands for to the test.
Star Trek Beyond is set to arrive on July 22, 2016.