'Hell Or High Water' Trailer: Jeff Bridges Goes After Chris Pine And Ben Foster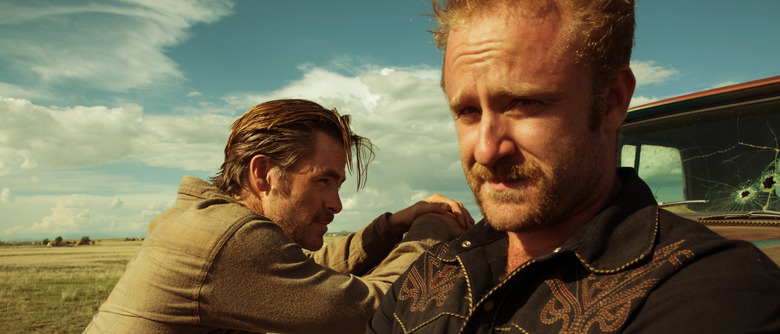 Chris Pine and Ben Foster kicked off the year with The Finest Hours, a tale of heroism and survival at sea. Now they've reunited for Hell or High Water, which seems like it could have been an alternate title for The Finest Hours but actually has nothing to do with water at all. Instead, the crime drama directed by David Mackenzie (Starred Up, Perfect Sense) centers on two brothers in West Texas who rob a string of banks to keep their family farm from going under.
Before long, their spree catches the attention of the authorities, represented here by two Texas Rangers played by Jeff Bridges and Gil Birmingham. Hell or High Water got some very good reviews at Cannes earlier this year and is now on its way to U.S. theaters. Check out the latest Hell or High Water trailer after the jump. 
I kind of hate the title for this movie, which makes it sound like the kind of cheap and cheesy thriller that goes straight to VOD. Hell or High Water isn't that, at least if you believe the buzz out of Cannes. In a gushing rave, Variety called it "a thrillingly good movie — a crackerjack drama of crime, fear, and brotherly love set in a sun-roasted, deceptively sleepy West Texas that feels completely exotic for being so authentic," while The Playlist described it as "if No Country for Old Men were remade as a heist movie." Maybe CBS Films should've taken Ethan's suggestion and actually just called it Mustache Wars.
because @Ethan_Anderton demanded it. pic.twitter.com/vSrTDGtgui

— CBS Films (@CBSFilms) June 30, 2016
Then again, if you look past the title to see the talent involved it should already be crystal clear there will be nothing half-assed about this film. Mackenzie's last film, Starred Up, was a powerfully brutal drama that put Jack O'Connell on the map, and screenwriter Taylor Sheridan is coming off of another highly acclaimed drama, Sicario. Then you've got Pine in the middle of one of the more interesting runs of his career (go see Z for Zachariah if you haven't already), and Foster, who never phones it in. His performance in Warcraft may have been incredibly bizarre, but it was definitely not lazy.
All in all, it looks worth keeping Hell or High Water on your radar. The film opens August 12 in some markets and expands nationwide August 19.
A story about the collision of the Old and New West, two brothers—Toby (Chris Pine), a straight-living, divorced father trying to make a better life for his son; and Tanner (Ben Foster), a short-tempered ex-con with a loose trigger finger—come together to rob branch after branch of the bank that is foreclosing on their family land. The hold-ups are part of a last-ditch scheme to take back a future that powerful forces beyond their control have stolen from under their feet. Vengeance seems to be theirs until they find themselves in the crosshairs of a relentless, foul-mouthed Texas Ranger (Jeff Bridges) looking for one last triumph on the eve of his retirement. As the brothers plot a final bank heist to complete their plan, a showdown looms at the crossroads where the last honest law man and a pair of brothers with nothing to live for except family collide.