'Game Of Thrones' Season 7 Will Be Shorter And Start Later Than Usual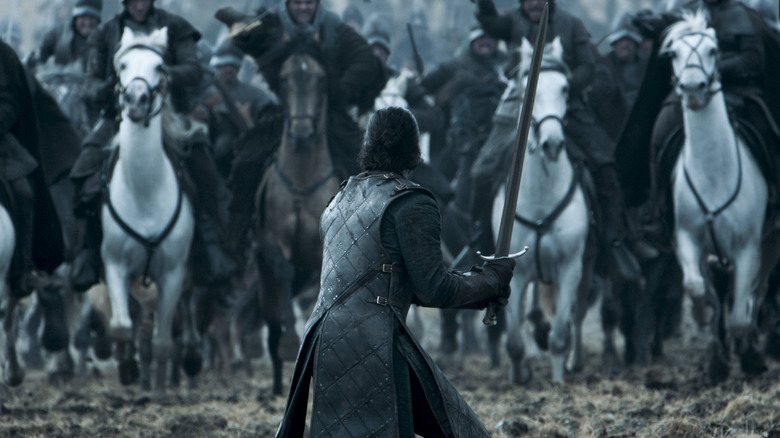 Winter has finally arrived in Westeros, and that means we won't get to swing by there again until summer. HBO has announced that Game of Thrones season 7 will debut in summer 2017 — not spring, as in years past — and that it'll consist of seven episodes instead of the usual ten.
Although this is the first official confirmation we've had of HBO's strategy for the next season, the news shouldn't come as a huge surprise considering showrunners David Benioff and D.B. Weiss have been talking up their plans for a while. 
Back in April, Benioff and Weiss estimated about 13 hours of story would be left after season 6. "I think we're down to our final 13 episodes after this season. We're heading into the final lap," said Benioff. "That's the guess, though nothing is yet set in stone, but that's what we're looking at." They added that those thirteen episodes would probably air in two parts: a seven-episode seventh season and a six-episode eighth and final season. Today's announcement only confirms the first half of that plan, but we wouldn't hold our breath for a longer eighth season.
As for why the show will air later than usual, HBO's Casey Bloys explained that the Starks' favorite season was to blame. "Now that winter has arrived on Game of Thrones, executive producers David Benioff and D.B. Weiss felt that the storylines of the next season would be better served by starting production a little later than usual, when the weather is changing," he said. "Instead of the show's traditional spring debut, we're moving the debut to summer to accommodate the shooting schedule."
His comments echo ones made by Benioff and Weiss in an interview last month: "We're starting a bit later because at the end of this season, winter is here. And that means that sunny weather doesn't really serve our purposes any more. So we've kind of pushed everything down the line, so we could get some grim, grey weather even in the sunnier places that we shoot."
It's worth pointing out that the delay likely means that Game of Thrones' seventh season will not be eligible for the 2017 Emmy race. And seeing as Game of Thrones once again led the nominations this year, with 23 including Best Drama, that has the potential to open up next year's field in some interesting ways.
Game of Thrones' seven episodes will be split among four directors: Alan Taylor, Jeremy Podeswa, Mark Myold, and Matt Shakman. Shooting will take place in Iceland, Spain, and Northern Ireland.