'Sherlock' Season 4 First Look: Sherlock Gets An Adorable New Best Friend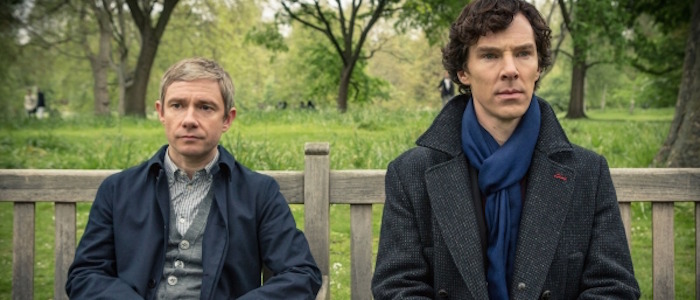 Back when Sherlock first began in 2010, Martin Freeman most famous for playing Tim on the British Office and Benedict Cumberbatch was barely known outside the U.K. at all. But these days, of course, they're both huge, huge stars. Freeman anchored Warner Bros.' The Hobbit trilogy while Cumberbatch voiced the dragon Smaug, and both are now part of the Marvel Cinematic Universe — Freeman as Everett Ross, who made his onscreen debut in Captain America: Civil War, and Cumberbatch as the title character of this fall's Doctor Strange.
Even so, the pair have found time in their schedules to reunite for one more season of Sherlock. Shooting is now underway in the U.K., and a Sherlock season 4 first look photo has just hit the web. Check it out below. 
BBC One shared the Sherlock season 4 first look photo.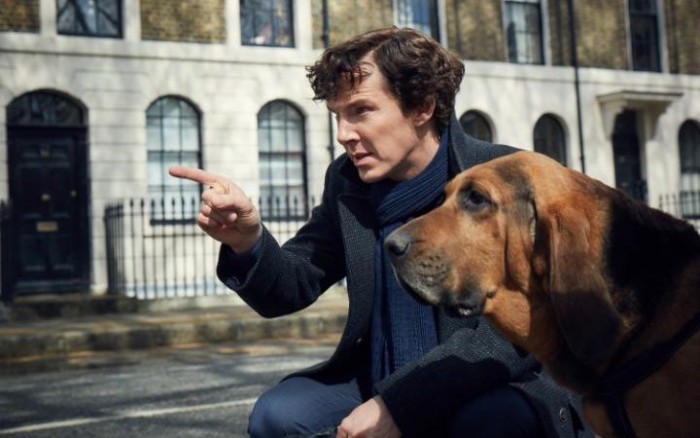 The image arrives just one day after the show's recent holiday special, Sherlock: The Abominable Bride, picked up six Emmy nominations including Best Lead Actor for Cumberbatch and Best TV Movie. The fourth season is expected to air sometime in early 2017. And when it arrives, you may want to savor it, because it could be the show's last. Executive producer Steven Moffat admitted to The Telegraph he's not sure how much longer the show will stay on, pointing out that his leading men don't really need the show anymore.
I don't know how long we can keep it going. I'm personally willing but I'm hardly the main draw. I would be moderately surprised if this was the last time we ever made this show. But it absolutely could be.
We do have two film stars in the program. They haven't needed to do these jobs for a very long time. They're coming back because they want to.
I'm amazed that we've got this far. I thought that once they had become extremely successful, we would only get to do one more series.
There's never going to come a time when we do a longer run, because this is what the series has become. It's an occasional treat where you get three movies. It's how it works.
Well, if Sherlock's fourth season really is the end, there are worse ways to go than cuddling a really cute dog. Meanwhile, you can look forward to seeing Cumberbatch playing a different sort of prickly genius in Doctor Strange, out November 4.