Mark Hamill On Insane Star Wars Secrecy, Force Awakens And Working On Episode 8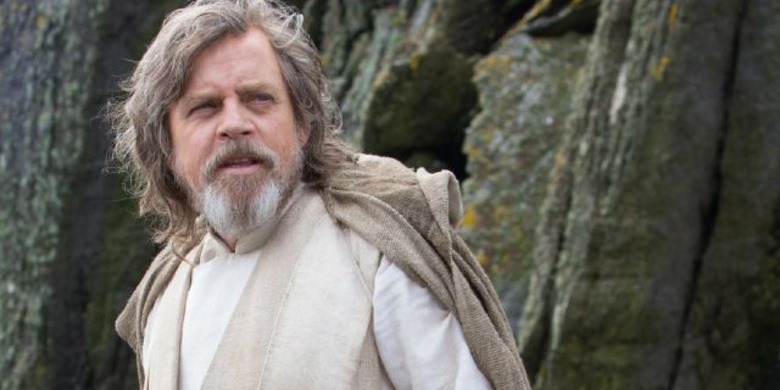 Mark Hamill took the stage for the first big presentation for Star Wars Celebration Europe 2016, a one hour question and answer session with the Jedi Master. Up front Hamill warned that he is contractually obligated not to talk about Star Wars Episode 8 or the future of the Star Wars movies, but this was one of his first public appearances where he could really talk openly about Star Wars: The Force Awakens.
If you thought the secrecy on the new Star Wars movies is crazy, Mark Hamill agrees with you. The actor who plays Jedi master Luke Skywalker says the secrecy on set is even crazier than you can possibly imagine.
"It can be annoying and intrusive," he admitted. "You get the call sheets and there are no names – only numbers! I really loved number eleven's work on their previous film."
But at the same time he understands the need for secrecy to preserve the experience for the fans.
"They're not doing it to annoy you, they just want the surprise to be in the movie theater, not the internet," Hamill said. "It's for your viewing pleasure that we do this."
But as an actor it makes the work harder.
"It can get out of control with the pages that get shredded," he added. "I need a script you can write on and take home and read! So they let me have a scene I can keep."
Someone asked if he was surprised or disappointed by his small but pivotal role in Star Wars: The Force Awakens.
"I thought it was really a great surprise, but I don't think they prepared me correctly," Hamill admitted.
The actor explained that for months he was told to work out and lose weight. He trained for months because he thought he'd have a very physical role in the sequel. But when he read the script he was shocked to find out that all he does is turn and remove his hood. But all that work helped him climb up the stairs on the Skellig Islands shown at the end of The Force Awakens. He said that climbing those steps are brutal and that if they showed Rey's journey to find him on Ach-To in real time it would have been four hours of her walking up steps.
When he first read the script and the first line was "Luke Skywalker has vanished" he got really excited.
"I said this is going to be good."
He also confirms the early rumors that the opening scene was originally his disembodied hand holding a lightsaber floating through space towards Jakku.
"I would have been in the first scene and the last scene."
He continued reading the script making notes of even Luke Skywalker mention, and when he came to the forrest fight on Starkiller Base and read that the lightsaber flew out of the snow he thought for sure that was going to be his entrance. But he was shocked to find out that Rey caught it.
"Rey caught it?!" Hamill joked. "She hasn't even been to Dagobah for training!?"
He admits that Luke also didn't finish his training, "I was a Jedi school dropout also, I just wanted to be with my friends." But Hamill knows his place in this new trilogy. He says "its really not a story about me anymore, its the story of Rey, Finn and everyone."
Asked about Daisy Ridley's character Rey's last name, Hamill smiled and says "I don't know. Thats a trick question."
Other interesting bits from the panel:
Yesterday he was in a studio with Rian Johnson looping dialogue for Star Wars Episode VIII. He called Rian Johnson a genius and said that he can already see some of the lines of dialogue he was speaking on future t-shirts.
He mentioned that he visited the Rogue One set and was excited to meet the cast of a Star Wars film he wasn't in.
Someone asked what his favorite part was from Michael Arndt's early abandoned screenplay. Hamill admitted that he never actually get to read Arndt's draft or treatment. When he visited Lucasfilm in Northern California he saw a ton of conceptual art from the early days when Arndt was working on the early script, some of the early designs ended up in the Art of the Force Awakens book.