Dwayne Johnson Is The Highest Paid Actor Of The Past Year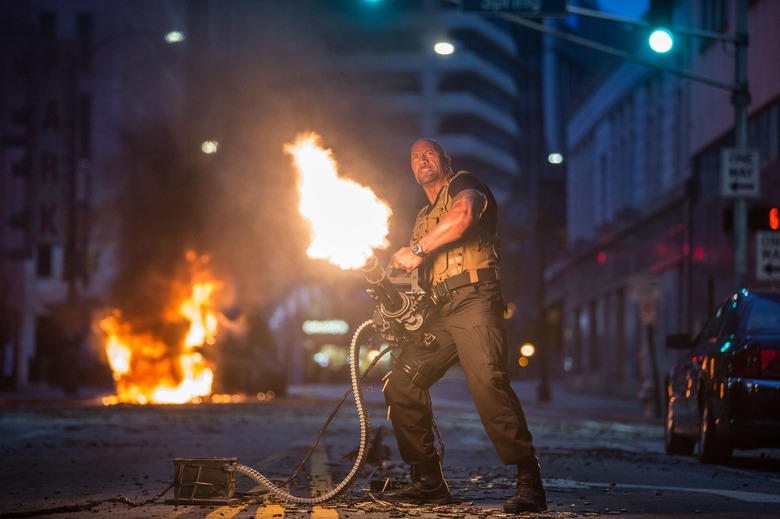 Everyone knows A-list movie stars can make a ton of money. But who makes the most money? According to a new report, Dwayne Johnson was the highest-paid actor of the past year, raking in an impressive $64.5 million to beat out the likes of Tom Cruise, Ben Affleck, Robert Downey Jr., and Jennifer Lawrence. 
Forbes tallied the "Celebrity 100" — their list of the 100 celebrities around the world who've made the most money (before tax and expenses) between June 2015 and June 2016. Johnson sits at #19, just behind the Rolling Stones and just ahead of David Copperfield.
The "highest-paid actor" title requires a bit of clarification. There are several names closer to the top of the list than Johnson who have made some of their money in acting, including Johnson's own Central Intelligence star. However, Johnson is the highest-ranked star who primarily makes his living as an actor. Hart (#6 with $87.5 million) is categorized as a comedian because much of his income came from his touring stand-up act, while Finding Dory star Ellen DeGeneres (#13 with $75 million) made much of hers from her daytime talk show.
I'm not sure Johnson would have been my first guess for the best paid actor of the past year, but looking back it makes sense. He is working basically all the time, balancing a movie career most actors would kill for with a TV career most actors would also kill for. In the past year he's had the comedy hit Central Intelligence and the action smash San Andreas, while also starring on HBO's Ballers.
Meanwhile, last year's highest-paid actor, Robert Downey Jr., has had only one release in the past year, Captain America: Civil War. But he was surely paid very, very handsomely.
Here are the other actors on the Celebrity 100 list:
Jackie Chan (#23, $61 million)
Matt Damon (#30, $55 million)
Tom Cruise (#37, $53 million)
Johnny Depp (#46, $48 million)
Jennifer Lawrence (#50, $46 million)
Ben Affleck (#58, $43 million)
Sofia Vergara (tied for #58, $43 million)
Vin Diesel (#79, $35 million)
Robert Downey Jr. (#87, $33 million)
Shah Rukh Khan (tied for #87, $33 million)
Melissa McCarthy (tied for #87, $33 million)
Akshay Kumar (#94, $31.5 million)
Brad Pitt (tied for #94, $31.5 million)
Most of these are Hollywood stars, but not all. While Chan isn't a big box office draw in the U.S. these days, he apparently does just fine for himself in his native China. Khan and Kumar are Bollywood stars. Among American celebrities, Hart, Jerry Seinfeld, Jennifer Lopez, and Penn & Teller are also among the list of top earners although not as actors. And while these figures may seem mind-boggling to the likes of us, even Johnson can't hold a candle to Forbes' single highest-paid celebrity of 2015-2016: Taylor Swift, with a whopping $170 million.
You can see the full Celebrity 100 list right here, or even more details on these fabulously wealthy people and their fabulously extravagant paychecks here.