'The Founder' Pushed Back To An Awards-Friendly Release Date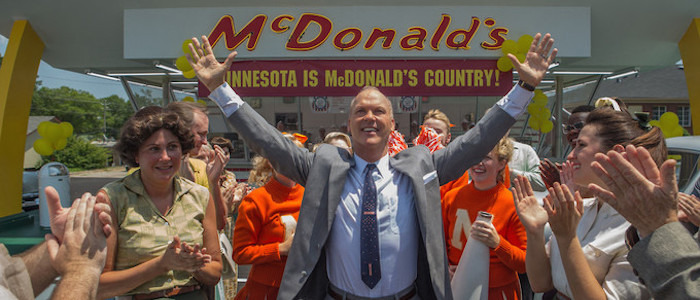 Originally, director John Lee Hancock's The Founder was scheduled to open in theaters this August. Only a few short weeks before its opening, The Weinstein Company has had a change of heart. Instead of playing as counterprogramming next month, the biopic about McDonald's founder Ray Kroc (Michael Keaton) has been postponed to awards season. The film will now open in limited release on December 16th.
Below, learn more about The Founder release date.
According to Deadline, after the film's Oscar-qualifying run it'll have a wide release on January 20th, 2017. The outlet briefly mentions that the test screening scores have been exceptionally high for the drama and, to the surprise of no one, people love Keaton in the role. The implication is The Weinstein Company realized they have an Oscar contender on their hands. Awards shows these days do tend to like Keaton (and for good reason), so the move makes sense.
The trailer certainly promised another stirring performance to watch from the actor, who stars in this dark success story. Struggling milkshake salesman Ray Kroc smells opportunity in a small, thriving family-owned hamburger restaurant called McDonald's, and he wants to take full advantage of that opportunity. Hancock, who also wrote the film, tells the story of how Kroc turned that restaurant into what it is today.
The Founder was first scheduled for a November release, but the studio bumped it up to August, where it would've faced off against Suicide Squad. Harvey Weinstein said the August release would prove that awards-caliber movies perform well anytime year. But now that the film is going wide in January, at least it'll face less competition at the box-office than it would've next month.
A winter release date sounds like the right time for Hancock's film, though. His two previous features, The Blind Side and Saving Mr. Banks, performed well that time of year, and the former was a monstrous hit.
Here's the film's official synopsis:
Written by Robert Siegel (BIG FAN), THE FOUNDER is a drama that tells the true story of how Ray Kroc (Michael Keaton), a salesman from Illinois, met Mac and Dick McDonald, who were running a burger operation in 1950s Southern California. Kroc was impressed by the brothers' speedy system of making the food and saw franchise potential. He maneuvered himself into a position to be able to pull the company from the brothers and create a billion-dollar empire.
The Founder opens in limited release on December 16th and goes wide on January 20th.