Netflix Orders Ten Episodes Of 'Bloodline' Season 3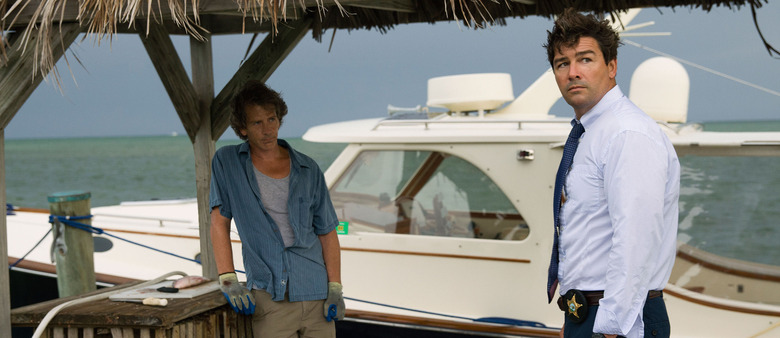 Bloodline is a Netflix show best consumed not all at once. The drama isn't the kind of series you want to binge watch, partly because it's so damn bleak at times. The recently released second season of the acclaimed series pushes the characters to new extremes. Throughout most of the season, Kyle Chandler looks utterly broken, making him and the show genuinely hard to watch at times, in a good way. Things somehow got worse for the Rayburn family, and it's safe to assume things are about to get a whole lot worse with the just-announced season three.
Below, learn more about Bloodline season 3.
Netflix has ordered ten episodes of a third season. Season one was 13 episodes, but the streaming service's order for season two was three episodes shorter — a trim that seriously helped the series. The pacing and structure of season two are tighter, and if it were any longer, it might not have been as dramatic to watch unfold. Ten episodes a season feels right for this show.
Kyle Chandler, Sissy Spacek, Linda Cardellini, Norbert Leo Butz, and, thankfully, Ben Mendelsohn are all returning to play the merry Rayburn gang. There was no mention of Sam Shepard coming back in the press release.
Here's what Netflix's Vice President of Original Content, Cindy Holland, had to say about the renewal:
Todd, Daniel, and Glenn have created a riveting family saga featuring one of the most talented ensembles in the history of television. We can't wait to see what the next chapter holds for the all-too-human Rayburns.
After Danny's (Mendelsohn) fate in season one, some fans were left wondering where the series would go without its wild card. Danny is the driving force of season one, but Bloodline's creators Todd A. Kessler, Daniel Zelman and Glenn Kessler found a natural way to incorporate him into season two, and to bring all of his past baggage with him. Danny now primarily appears as (spoiler!) a ghost, haunting or guiding his brother John (Chandler). With his presence in season two, we're reminded that the rest of the "perfect" Rayburn family is as vulnerable and as breakable as he was.
Bloodline's creators and writing staff must have been confident this news was coming because the season two finale of Bloodline has no closure. There are currently three major loose ends in the series, if not more. Season two goes out on an explosive note with the main characters making some seriously rash decisions. To not see the consequences would've been a disappointment, so it's great Netflix is bringing this terribly flawed family back to their subscribers.Bloodline returns next year.