'Harry Potter And The Cursed Child' Movie In The Works? Warner Bros. Files Trademark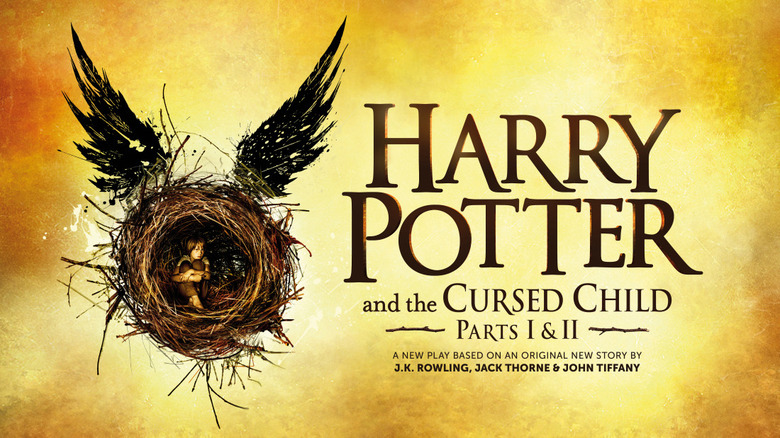 Could a Harry Potter and The Cursed Child movie be in the works at Warner Bros.? J.K. Rowling's two-part West End stage play is currently in preview performances at the Palace Theatre in London, England. The grand opening happens at the end of the month, which coincides with the release of the script book. Touted as the eighth official installment in the Harry Potter series, the story is set 19 years after the events of Harry Potter and the Deathly Hallows and follows an older Harry Potter, now a Ministry of Magic employee, and his younger son Albus Severus Potter.
Last week, Warner Bros. filed for a trademark for Harry Potter and the Cursed Child in the UK, which includes motion pictures and a bevy of potential merchandise options.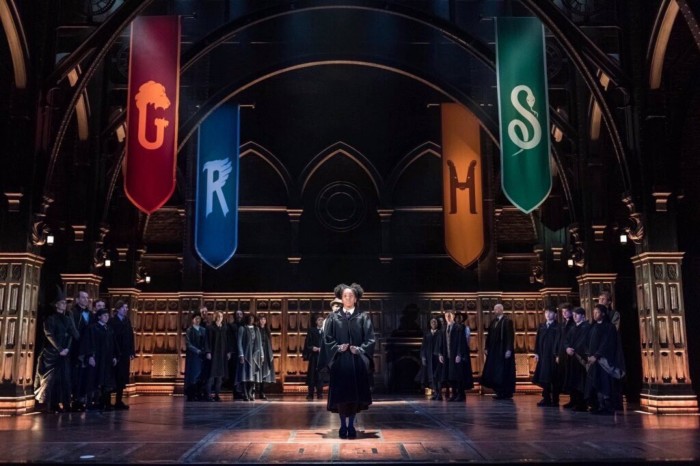 The trademark was filed in the UK on July 8th by US-based Warner Bros. Entertainment Inc. The trademark, first discovered by Brian Conroy, would cover a long list of things which look to be potential merchandise, but also movies:
"motion picture films featuring comedy, drama, action, adventure and/or animation, and motion picture films for broadcast on television featuring comedy, drama, action, adventure and/or animation; audio video discs, and digital versatile discs featuring music, comedy, drama, action, adventure, and/or animation"
This is interesting because in February, JK Rowling claimed that the play would not be developed into a movie:
OMG – I am so excited about this! I heard it will be a movie, too. #HarryPotterCursedChild https://t.co/yaRVwyBCYZ

— Katie Hendrickson (@katehendrickson) February 29, 2016
You heard wrong, I'm afraid. #CursedChild is a play. #FantasticBeasts will be 3 movies, though! https://t.co/7tvw4rolcR

— J.K. Rowling (@jk_rowling) February 29, 2016
Of course, JK Rowling also claimed that the play would "explore the previously untold story of Harry's early years as an orphan and outcast" when the production was first announced. The story was later revealed to be the eighth installment of the Harry Potter story.
Warner Bros. has nothing to do with stage play productions, so why are they registering a trademark for Harry Potter and the Cursed Child? We don't have an answer, so for now it's all just speculation. Could a movie be in development? Will there be a big announcement at Comic-Con 2016? Maybe they are exploring plans to film the production and screen the two-part play in theaters nationwide? It might be possible that Warner Bros. has an option on all future Harry Potter films and is just locking down this trademark "just in case."
Rowling has previously stated that the play format "is the only proper medium for the story," in response to fans who wanted her to release Cursed Child as a novel. The script book will be released in bookstores worldwide on July 31st 2016.
We previously rounded-up a bunch of reactions from early previews of Part I and Part II. They play doesn't have its grand opening until the end of the month, and has already evolved quite a bit. For example, live owl performers have been removed from the production after opening night mishaps. The response so far to the two parts has been incredible. Most Harry Potter fans are brought to tears by the end of the two-night event.
As for what this trademark means, we might not know until years from now. Even if Rowling were on board for a movie adaptation, that probably wouldn't happen any time soon as the stage production has yet to officially open.