'The Hollars' Trailer: John Krasinski Should Call Home More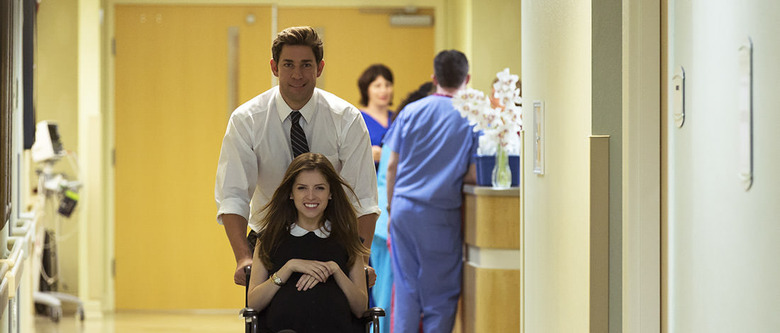 In 2009, actor John Krasinski made his directorial debut with an adaptation of David Foster Wallace's Brief Interviews with Hideous Men. The film, which does feature some good performances, wasn't received particularly well. Seven years after its premiere, Krasinski returned to the Sundance Film Festival with his second feature as a director, The Hollars, which stars himself, Anna Kendrick, Margo Martindale, Sharlto Copley, Charlie Day, Richard Jenkins, Mary Elizabeth Winstead.
Below, watch The Hollars trailer.
Krasinski's sophomore effort is written by James C. Strouse, who wrote and directed Grace Is Gone, The Winning Season, and People Places Things. He typically writes very sincere stories, and The Hollars looks like another example of that. In the film, Krasinski plays a struggling cartoonist that returns home after his mother (Martindale) is diagnosed with a brain tumor. He'll have to reconnect with his family and the home he left a long time ago, as you tend to do in these sort of stories.
Here's the charming trailer for The Hollars (Source: Twitter):
Ladies and Gents! I give you the trailer premiere of... THE HOLLARS!!! In theaters August 26th!!! #TheHollarshttps://t.co/LW9TdkY5Fc

— John Krasinski (@johnkrasinski) July 13, 2016
There are certainly some returning home tropes expected with The Hollars–the film's producer, Tom Rice, did compare it to Garden State when the project was first announced–but in Peter's write-up from Sundance, he called it a familiar story told well. It's also worth noting Krasinski made him cry once or twice. Many of the other reviews echoed Peter's thoughts on the movie, although some weren't quite as positive. Soon after the film's premiere, The Hollars was acquired by Sony Classics Pictures.
The last time Krasinski worked in front of and behind the camera was Gus Van Sant's The Promised Land, which he co-wrote with Matt Damon. It's a good, modest drama that showed Krasinski's abilities go beyond acting, although he did show a considerable amount of range this year with his performance in Michael Bay's 13 Hours: The Secret Soldiers of Benghazi. He's a fine actor and writer, and maybe we'll soon be saying the same about him as a director.
Here's the official synopsis for The Hollars:
John Krasinski's big-hearted family comedy takes a touching look at the ties that bind. Krasinski plays John Hollar, a frustrated graphic novelist anxiously awaiting the birth of his baby with girlfriend, Rebecca (Anna Kendrick). When his mother, Sally (Margo Martindale), is diagnosed with a brain tumor, John flies back home, where denial runs deep in the family tree. While his loving but fractured family pulls together to prepare Sally for surgery, John takes a second look at the life he left behind.
The Hollars opens in theaters August 26th.