Dan Harmon Not Giving Up On 'Community' Movie: "It'll Happen"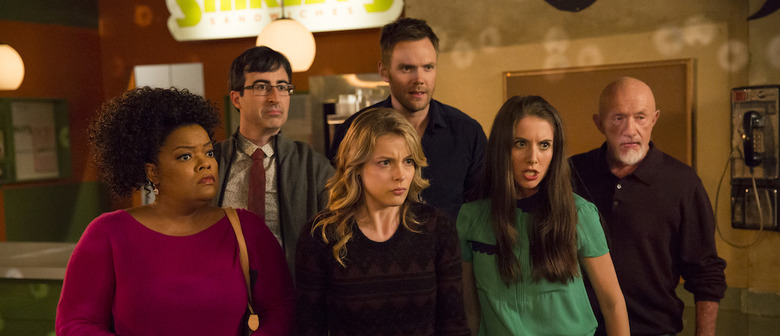 Take heart, Community fans – Dan Harmon isn't giving up on the dream of #SixSeasonsAndAMovie. He's just not sure when he'll be able to make it come true. For starters, there's the paradoxical problem of this cast being too popular: everyone in that cast has moved on to new shows and movies, so it's unclear when they'd have time to make a Community movie even if they wanted to. Still, he says, "it'll happen." Get your latest Community movie update below. 
Harmon offered the latest on the Community movie in a chat with Larry King:
If I pull out a typewriter right now and write a Community movie just for my own heart and mind, then I have to go through the heartbreak and agony of finding out which of the people are gonna show up to make it. Whereas, on the other hand, if I wait for everybody to line up and say, 'we're all out of work and ready to do a Community movie,' well, I guess that's a bad idea, too.
So the timing seems tricky — everyone's busy right now, but waiting for everyone to get less successful isn't really a great option either. Still, Harmon insists the Community movie is just a matter of time. "It'll make a great movie. It'll happen," he said.
Harmon isn't the first to point out that the Community cast is much more in-demand today than they were when the series started. Last year, star Joel McHale offered a candid explanation of why a seventh season was unlikely to happen. "All the actors on the show, almost without exception — their stock has risen significantly and it's out of the pay rate that is affordable to make the show," he said. "There is just not enough money to be able to pay for the show." For what it's worth, it doesn't look like any of these actors are getting less busy or less expensive anytime soon — nearly all of them have TV regular roles and/or movie gigs lined up for the foreseeable future.
Still, we wouldn't completely rule out the possibility of a Community movie. After all, the "six seasons" part also sounded pretty farfetched five years ago. The show has survived years of terrible ratings, the departure (and eventual return) of its creator and showrunner, and actual cancellation by its original network. Who's to say it can't weather the success of its stars, and eventually bounce back as a movie?