'Loving' Trailer: Ruth Negga And Joel Edgerton Make History In Jeff Nichols' New Drama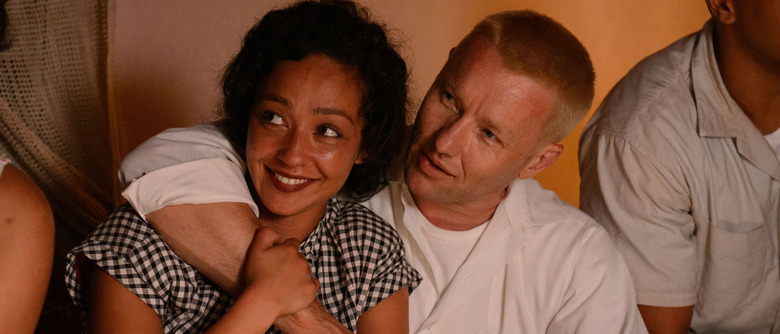 It was just a few months ago that Jeff Nichols released Midnight Special, an Amblin-esque adventure that's emerged as one of our very favorite films of the year so far. But Nichols wasn't done. Later this year he'll bring us Loving, a historical drama about the real-life couple whose interracial marriage sparked a legal battle that took them all the way to the Supreme Court — who ultimately struck down anti-miscegenation laws across the United States.
Joel Edgerton and Ruth Negga play the couple in question, and Nick Kroll, Marton Csokas, and (of course) Michael Shannon also star. Watch the first Loving trailer below. 
2016 is turning out to be a banner year for Negga. She's made an indelible impression as Tulip on AMC's Preacher (she gets one of the best introductions I've ever seen on television), which reunites her with her Warcraft co-star Dominic Cooper. Loving hit Cannes earlier this year and immediately earned Negga some strong buzz for her performance for her nuanced work as Mildred. Maybe she'll end up a serious contender in the awards race or maybe she won't, but either way this year should be a huge turning point for her career.
It's easy to imagine a version of this story that juices up the drama, but that's not really Nichols' style. The Lovings' story is inherently moving, and Nichols seems to trust his actors to get those emotions across without indulging in sensationalism or grandstanding. If anything, the reactions out of Cannes suggest Loving may be too restrained, though even the less positive reviews acknowledged the care and sensitivity that Nichols puts into his film.
Loving gets a limited release starting November 4 and will then roll out to other markets across the U.S.
From acclaimed writer/director Jeff Nichols, "Loving" celebrates the real-life courage and commitment of an interracial couple, Richard and Mildred Loving (Joel Edgerton and Ruth Negga), who married and then spent the next nine years fighting for the right to live as a family in their hometown. Their civil rights case, Loving v. Virginia, went all the way to the Supreme Court, which in 1967 reaffirmed the very foundation of the right to marry – and their love story has become an inspiration to couples ever since.