Zack Snyder, Geoff Johns And Allan Heinberg Wrote The 'Wonder Woman' Movie?!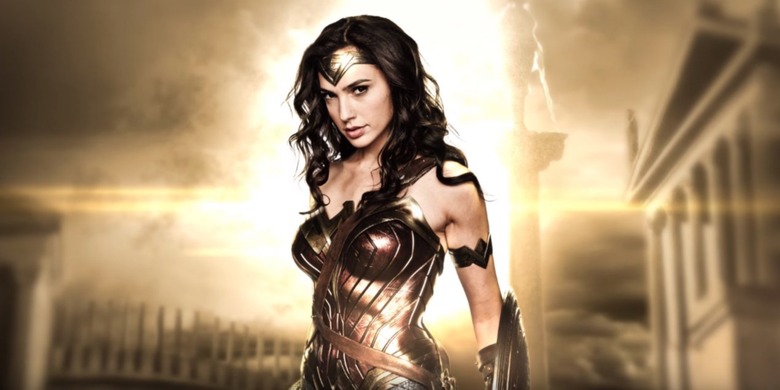 You'll never guess who wrote the screenplay for Patty Jenkins' 2017 Wonder Woman film. Usually we report screenwriter news when a project is in development, not while it's in post-production. But a new press release from Warner Bros reveals some surprising new names as the credited screenwriters for the DC Comics adaptation: Zack Snyder, Geoff Johns and Allan Heinberg. Hit the jump to learn more about the Wonder Woman screenwriters and to read a new plot synopsis for the Wonder Woman movie.
Originally, there were five writers brought into give treatments for Wonder Woman's story, and it had been reported that Ice Age: Continental Drift/Pan screenwriter Jason Fuchs won the bid. But it looks like Warner Bros. decided to go in a completely different direction before production began. A new press release from Warner Bros reveals that the screenplay was written by an entirely new group: Allan Heinberg and Geoff Johns, based on story by Zack Snyder & Allan Heinberg.
Heinberg is a two time Emmy-nominated television veteran whose credits span Party of Five, Gilmore Girls, Grey's Anatomy, Sex In The City and Scandal. It looks like Heinberg collaborated with Batman v Superman/Justice League filmmaker Snyder on an early story. Snyder's previous screenplay credits include his adaptation of 300, 300: Rise of an Empire, the Watchmen animated film Tales of the Black Freighter and his original 2011 film Sucker Punch.
Months back we had heard that DC Chief Creative Officer Geoff Johns would have a larger role in the future of DC movie adaptations, becoming a producer on all future DC adaptations. Johns is of course a fan favorite in the comic book world for his work on The Flash, Infinite Crisis, Green Lantern, Superman, Aquaman, Teen Titans and more. Well, it looks like Johns was very hands-on with the screenplay for Wonder Woman, enough to earn himself a screenplay credit alongside Heinberg. While some readers might get worried by the Snyder's story credit, I think Johns involvement in the screenplay itself can only be looked at as a good sign of things to come.
Warner Bros. also released a new plot synopsis for Wonder Woman, which you can read below:
"Wonder Woman" hits movie theaters around the world next summer when Gal Gadot returns as the title character in the epic action adventure from director Patty Jenkins. Before she was Wonder Woman, she was Diana, princess of the Amazons, trained to be an unconquerable warrior. Raised on a sheltered island paradise, when an American pilot crashes on their shores and tells of a massive conflict raging in the outside world, Diana leaves her home, convinced she can stop the threat. Fighting alongside man in a war to end all wars, Diana will discover her full powers...and her true destiny.
Joining Gadot in the international cast are Chris Pine, Connie Nielsen, Robin Wright, David Thewlis, Danny Huston, Elena Anaya, Ewen Bremner and Saïd Taghmaoui. Jenkins directs the film from a screenplay by Allan Heinberg and Geoff Johns, story by Zack Snyder & Allan Heinberg, based on characters from DC Entertainment. Wonder Woman was created by William Moulton Marston. The film is produced by Charles Roven, Zack Snyder, Deborah Snyder and Richard Suckle, with Rebecca Roven, Stephen Jones, Wesley Coller and Geoff Johns serving as executive producers. Warner Bros. Pictures presents, in association with RatPac-Dune Entertainment, an Atlas Entertainment/Cruel and Unusual production, "Wonder Woman." The film is scheduled for release on June 2, 2017, and will be distributed worldwide by Warner Bros. Pictures, a Warner Bros. Entertainment Company.