More 'Ghostbusters' Coming: Producer Says Franchise Will Be "Endless," Paul Feig Promises Extended Edition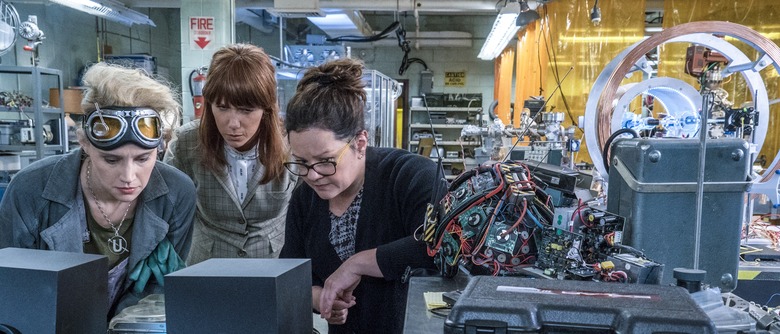 After much fuss, Paul Feig's Ghostbusters finally had its world premiere in Hollywood this past weekend and rolls out to U.S. theaters this coming weekend. Early reviews have been mixed to positive (you can read ours here), and if all goes well, we could be seeing a lot more of the rebooted Ghostbusters in the future. Producer Amy Pascal says the newly revived franchise will be "endless," which of course is the goal of pretty much every mainstream blockbuster franchise these days.
But before we even get there, we'll have a longer version of Feig's Ghostbusters coming our way. The director says Ghostbusters will get an extended home video cut that'll run 15-17 minutes longer than the theatrical version.
The Hollywood Reporter caught up with Pascal on the Ghostbusters premiere red carpet. "I have waited for this moment for a year!" said the producer. "People are going to love this movie so much that's they're going to demand more and more." Original Ghostbuster Ernie Hudson also sounded quite confident. "It's great to finally have a film that moves the franchise forward," he said. "It'll be something the fans are going to love. I know there's been a lot of different reactions, but when they see the movie, they're going to love it."
The new Ghostbusters was already under fire before it even started shooting, in a large part due to the decision to feature four female leads. The commotion surrounding this movie has only intensified as the release date approaches, but Sony chairman Tom Rothman doesn't seem spooked. "All that stuff has been great. It's been great for the movie," he said. "The movie is a comedy, an entertaining comedy, but it is also now a real important part of the social conversation and you don't usually get to do both of those things."
While a Ghostbusters sequel looks likely, Sony hasn't officially given a green light just yet. The studio has, however, started making other plans to extend that brand. A Ghostbusters animated movie is in development and a Ghostbusters animated TV series, titled Ghostbusters: Ecto Force, is slated to premiere in early 2018. There's also been talk of a potential spinoffs although it's unclear how far along that project is at this point.
But before any of that arrives, we'll get more Ghostbusters in the form of an extended edition. Feig's Bridesmaids, The Heat, and Spy all have extended cuts for home video, and it sounds like Ghostbusters will follow in their footsteps. "There will be [an extended cut], and it will be a good 15 to 17 minutes longer than the theatrical feature," Feig told DVD Talk (via The Playlist). In addition, Feig revealed to Collider, there'll be even more footage released as deleted scenes and bonus features on the DVD/Blu-ray.
Ghostbusters hits theaters July 15.