Matt Damon Is "Totally Fine" With Eventually Getting Replaced By A Younger Jason Bourne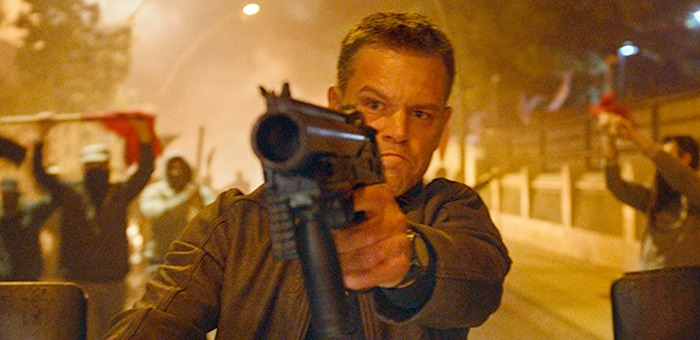 Studios may hope for "endless" franchises, but the faces of those franchises have an unfortunate habit of aging out or moving on. So the Han Solo torch gets passed from Harrison Ford to Alden Ehrenreich, the Rocky franchise turns into the Creed franchise, and James Bond continues to spark rumor after rumor about who could replace Daniel Craig.
And Matt Damon, who returns as everyone's favorite amnesiac spy this month in Jason Bourne, has made his peace with that inevitable fate. Damon acknowledged the likelihood that he'll be replaced someday by a younger actor as Bourne, and told press that while he's "very excited" to reprise his role this time, he's "totally fine" with the role getting recast eventually. 
During an appearance in South Korea to promote Jason Bourne, Damon said he was ""definitely going to be replaced some day by some new young Jason Bourne. That happens to everybody and they reboot these things, and that's totally fine." He continued, "The only control I can exercise is over the ones that I'm part of. I'm the curator of them as long as I'm involved and that's why I battled so hard to make sure that we got the same creative people [including director Paul Greengrass] to get involved in this one."
Besides, playing action hero Jason Bourne isn't quite so easy for Damon today as it was when he started (via THR):
It's difficult when you're 45 compared to when you're 29, but you still have to run as fast as you can. That part was a challenge but to get to revisit the people was wonderful. But I said, let's smell the roses as we say and appreciate that we get to be here together and make sure we have fun [especially because it was so tense on the set for the other films].
Damon was kinda-sorta replaced once before. When he declined to return to the franchise without Greengrass, Universal pivoted to Jeremy Renner as Aaron Cross as the new franchise lead in The Bourne Legacy. Unfortunately, audiences were lukewarm on the new guy – The Bourne Legacy was met with indifference and middling box office. As of now, the studio hasn't confirmed any future plans for the Aaron Cross character. Hopefully the studio has better luck the next time they try to revive Bourne without Damon.
Jason Bourne opens July 29.
Matt Damon returns to his most iconic role in Jason Bourne. Paul Greengrass, the director of The Bourne Supremacy and The Bourne Ultimatum, once again joins Damon for the next chapter of Universal Pictures' Bourne franchise, which finds the CIA's most lethal former operative drawn out of the shadows.
For Jason Bourne, Damon is joined by Alicia Vikander, Vincent Cassel and Tommy Lee Jones, while Julia Stiles reprises her role in the series. Frank Marshall again produces alongside Jeffrey Weiner for Captivate Entertainment, and Greengrass, Damon, Gregory Goodman and Ben Smith also produce. Based on characters created by Robert Ludlum, the film is written by Greengrass and Christopher Rouse.