'Pete's Dragon' Clip: Robert Redford And Bryce Dallas Howard Have A Late Night Chat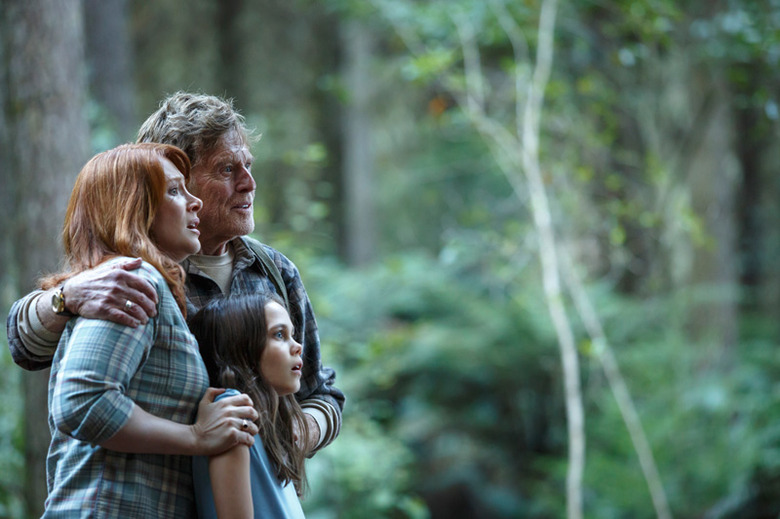 Disney's last remake, The Jungle Book, made close to a billion dollars. Audiences keep turning out to see their live-action reimaginings, and maybe partly because they're improving in quality. Following up some of the studio's previous efforts, like Alice in Wonderland and Maleficent, both Cinderella and The Jungle Book surpassed some's expectations. Not everybody pegged them to be, creatively and financially, as successful as they are. Going into David Lowery's (Ain't Them Bodies Saints) loose remake of Pete's Dragon, perhaps some of those skeptics will have higher expectations for this tale of friendship.
Below, watch the first Pete's Dragon clip.
Gone in this remake of the 1977 film, which you shouldn't expect many winks and nods to, are the songs, including the catchy opening number about roasting young Pete and eating him. Based on what David Lowery has said, he was potentially more inspired by the likes of The Black Stallion and Red Baloon than the original Pete's Dragon – a movie that is far from sacrilegious to remake.
Lowery's reimagining stars Oakes Fegley, Bryce Dallas Howard, Robert Redford, Oona Laurence, Wes Bently, and Karl Urban. The clip below features Redford and Howard, playing father (Mr. Meacham) and daughter (Grace).
Here's the Pete's Dragon clip, originally from Yahoo! Movies):
This clip doesn't hint at it, and this is hardly a spoiler, but from the few clips I've seen from Pete's Dragon, you get the sense that there's some past drama to Mr. Meacham and Grace's relationship. She heard her father's stories about dragons all her life, and maybe hearing your dad tell you and your friends that fantastical beasts do exist doesn't make for the best childhood. Maybe I'm wrong about their current and past situation, but whatever the case is, I left the preview event as interested in seeing where their relationship goes as much as Pete and Elliot the Dragon's friendship.
Here's the official synopsis for Pete's Dragon:
For years, old wood carver Mr. Meacham (Robert Redford) has delighted local children with his tales of the fierce dragon that resides deep in the woods of the Pacific Northwest. To his daughter, Grace (Bryce Dallas Howard), who works as a forest ranger, these stories are little more than tall tales...until she meets Pete (Oakes Fegley). Pete is a mysterious 10-year-old with no family and no home who claims to live in the woods with a giant, green dragon named Elliott. And from Pete's descriptions, Elliott seems remarkably similar to the dragon from Mr. Meacham's stories. With the help of Natalie (Oona Laurence), an 11-year-old girl whose father Jack (Wes Bentley) owns the local lumber mill, Grace sets out to determine where Pete came from, where he belongs, and the truth about this dragon.
Pete's Dragon opens in theaters August 12th.